CES 2023: Asus Unveils Gaming Monitor With 540Hz Refresh Rate
This site may earn affiliate commissions from the links on this page. Terms of use.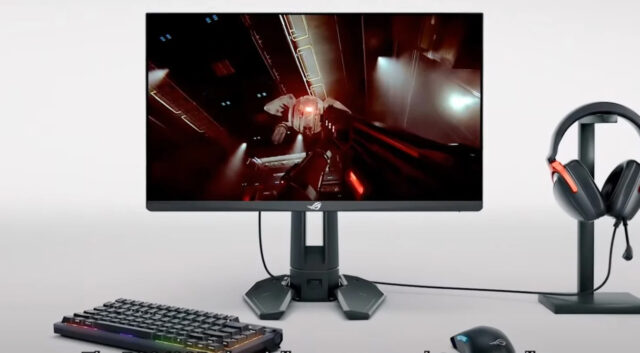 For most gamers, a high-refresh monitor is a luxury — it makes things look smoother and prettier, but it won't change the experience. In competitive gaming, speed is everything. Even a fraction of a second can be the difference between a stunning victory and a demoralizing defeat. It's no surprise, then, to see monitor manufacturers have been pushing beyond 144Hz and 240Hz, which used to be the high-refresh standard. At CES 2023, Asus has surpassed the high-water mark from last year with its latest esports monitor. The ROG Swift Pro PG248QP is only 1080p, but it has an impressive 540Hz refresh rate.
The 24-inch PG248QP has an upgraded TN panel, known as Esport TN or E-TN. These displays don't have the best viewing angles, but they have better contrast and, of course, higher refresh rates. If you have the gaming hardware to push a game up to 540 frames per second, this monitor will be able to show every frame as it's rendered. The monitor also has a compact flip-out stand that gives it a smaller footprint than you'd expect from a 24-inch monitor.
According to Asus, its new monitor is the fastest esports gaming display in the world. If you don't care about having the fastest response time, there are much better display options out there, but competitive gamers have specific requirements. A 4K screen might look nicer, but few games will run at 4K with high enough frame rates to take advantage of the 540Hz refresh rate, even with a robust GPU. That's why 1080p is generally seen as the sweet spot for esports.
[embedded content]
The PG248QP supports Nvidia G-Sync, which locks the refresh rate of your monitor to the frame rate at which your game renders. This helps reduce image tearing, which can negatively impact the clarity you'd otherwise expect from such a fast panel. It also has the Nvidia Latency Analyzer inside to measure latency and provide tools to reduce that latency in supported games.
Asus hasn't confirmed pricing for the PG248QP, but it has some time to decide. The monitor won't go on sale until the end of Q2 2023. We don't even have a comparable product to estimate the price — Asus announced a 500Hz monitor at Computex last year, but it appears to have never actually released it. Hopefully, this one arrives on time and doesn't cost an arm and a leg.
Now read: