The Best Portable Generators To Keep The Lights (And Everything Else) On Off-Grid
Portable power stations are great, allowing you to bring a relatively big battery to power your creature comforts while slumming it in the camp site. Problem is, batteries run out, requiring you to recharge regularly either from the car, a solar array, or some other available power source. That's why, for many people, portable generators remain the most viable way to enjoy powered amenities in the outdoors.
Most portable generators are gasoline-powered, although you can also find ones that take propane and even diesel. Whichever the case, all you have to do is bring a couple containers of fuel along and you'll be able to start your generator back up by simply refilling the tank. This makes it a lot more convenient than battery-based power stations, especially if you plan to run on generator power for an extended length of time.
The best part? A portable generator can come in handy not just during camping. Want to power a big outdoor TV and some cooling fans during a tailgate party? A portable generator sounds like the perfect rig for the job. Need power at a construction site? They can handle that, too. Even better, they can serve as absolute lifesavers during power outages at home, allowing you to keep the lights on, along with any other creature comforts you want to keep running.
Some portable generators support dual fuel sources, such as gas and propane, while others stick to just one (usually gas). Sadly, even the best portable generators are quite noisy. That's a veritable gas engine running in there, after all. Not to mention, they do produce a certain amount of fumes. This is why you have to consider local regulations when it comes to portable generators. No point bringing one if you're not allowed to use it at a camp site, after all. Same with neighborhood associations, which might not take kindly to the loud whirring of a gas engine late into the wee hours. With that said, some portable generators operate more quietly and cleanly than others, which could be an important criteria for your eventual pick.
The best portable generators, of course, come in a portable size. They have carry handles for moving from one spot to another. Some will even have small casters, so you can move them without doing any heavy lifting work. For the purposes of this list, we stick with generators around 3000W or below. Truth be told, we found them to be the limit for what's genuinely portable, as you can literally carry them with one hand (well… if you're strong) for loading at the back of the car. Lastly, if you plan to use it for sensitive electronics, then you probably want to stick with inverter generators, as they tend to produce more stable power that's safe for TVs, computers, and other consumer electronic products.
These are the best portable generators to let you keep the power going.
Champion 200951 2500-Watt Portable Inverter Generator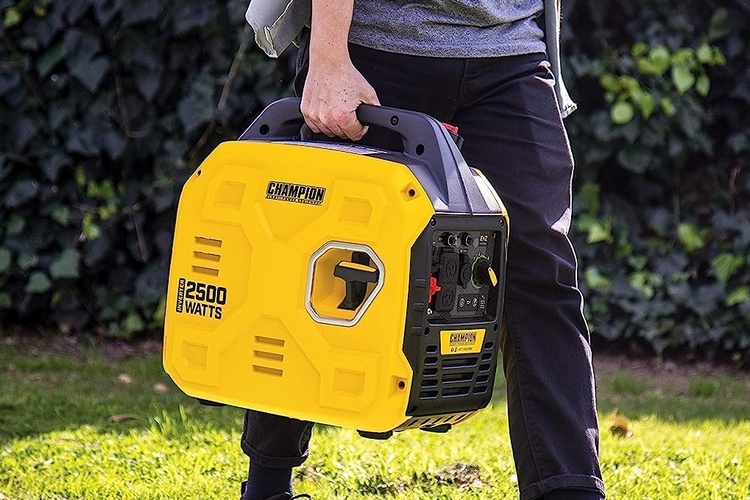 As the name says, this is an inverter generator (like many others in this list), which tend to be a little quieter and cleaner than traditional generators, courtesy of their variable engine speeds. Basically, if given a choice between an inverter and non-inverter portable generator, the former is usually the better choice. With that said, this 2,500-watt model has a 1.1-gallon fuel tank that can run for up to 11.5 hours at 25 percent load with just a single tank, so you can get plenty of mileage for your gas, so long as you don't go crazy on the amount of electricity you're using. It also has an Economy mode that automatically reduces electrical load, allowing you to extend the fuel while leaving the device to run at a much quieter pace. Features include 1,850 running wattage, support for parallel connection to another 2,500-watt generator to double the output, and a light weight of just 39 pounds.
Ryobi 2300-Watt Bluetooth Inverter Generator (RYi2322VNM)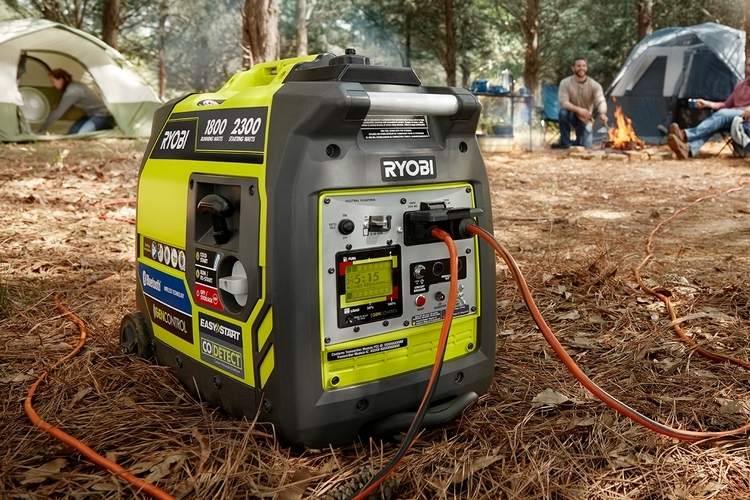 We love the Bluetooth app that comes with this portable generator, which shows the real-time power consumption, fuel level, and an estimate of the remaining time based on the current power load, making it easy to manage your overall usage. You can even use the app to toggle Eco mode and restart the generator entirely, so you don't have to get up from your comfortable seat to adjust the machine's operation at any point. We also appreciate the fact that it has wheels on top of the multiple handles (four of them, in fact), giving you plenty of options when it comes to moving the darn thing around. Features include a 1.2-gallon fuel tank, a runtime of 10.3 hours at 25 percent load, built-in carbon monoxide sensor with auto-shutoff, and parallel connection support (you can hook up another 2,300-watt generator to double the output).
Buy Now – $699
Dewalt 2200-Watt Portable Inverter Generator DXGNI2200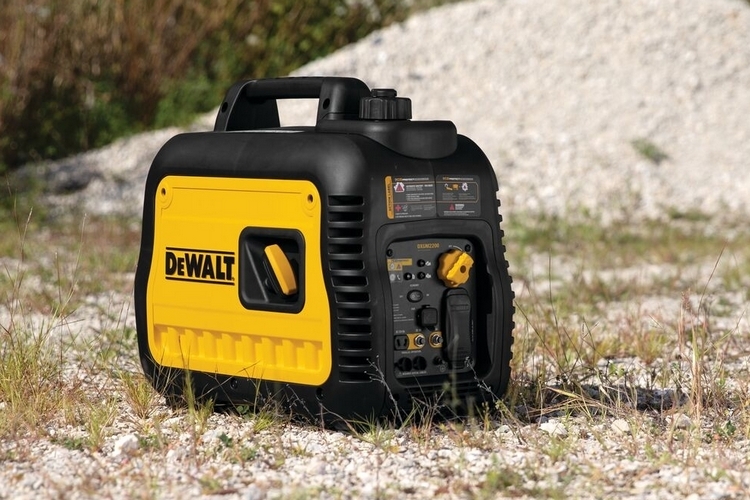 This portable generator meets the standards set by the National Park Service for noise requirements on camp grounds, so it should provide reasonably quiet operation for a 2,200-watt powerplant. It's powered by an 80cc OHV engine with auto-throttling for efficient fuel management and automatic low-oil shutdown to keep from damaging the engine if you fall asleep with the power running. We appreciate the covered outlets to keep out water and dust when not in use, as well as the compact proportions that make it truly portable. Do note, there's no onboard LCD, so you'll have to rely on LED indicators to know the operating status like it's 1999. Features include a one-gallon fuel tank, 11 hours of runtime at 25 percent load, a fuel-saving Eco mode, and a carbon monoxide sensor that automatically shuts down the engine when levels get hazardous.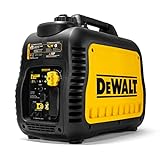 DEWALT DXGNI2200
CO Protect Technology – Stops. Alerts. Saves. Powerful protection against hazardous carbon…
Buy Now – $699
DuroMax XP2300iH 2300-Watt 80cc Dual Fuel Inverter Generator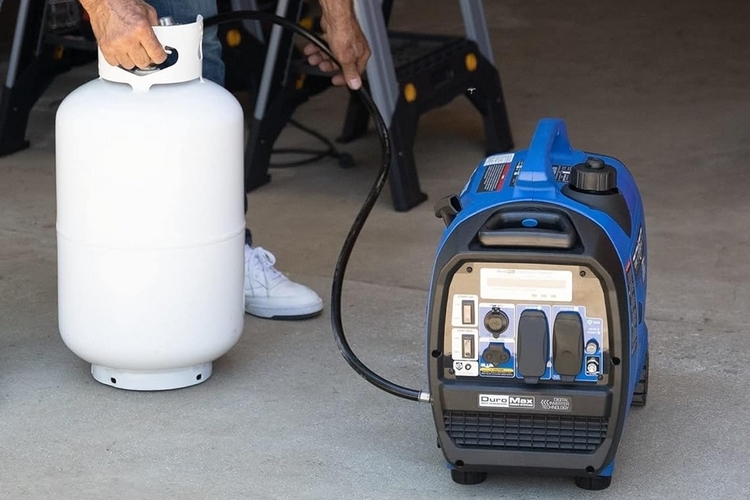 DuroMax's smallest portable generator feels a little bigger than comparable units. It's quite heavier, too, at 53 pounds, although that's still really portable as far as power generators go. For the extra heft, though you get a dual-fuel rig that can run on either gasoline or propane, allowing you to switch to whichever fuel is more readily available in your current location, while covered outlets and switches ensure there's no way for moisture to enter, in case its left exposed outside in inclement weather. It also comes with a pair of wheels and a telescoping front handle, aside from the carry handle on top. Features include 1,800 running watts, a digital readout, low-oil auto shutoff, carbon monoxide alerts, and parallel connection support.
Briggs & Stratton P2400 PowerSmart Series Inverter Generator
We love the compact dimensions of this portable generator, although it is on the heavier side at just over 50 pounds. Powered by a 79cc OHV engine, it delivers 2400 starting watts and 1800 running watts, so you can power most any appliance you want to keep around camp, with a parallel port available, so you can run two generators side by side at twice the output. It's got all the usual niceties for portable generators, including an inverter engine, a CO sensor with auto shutdown capabilities, outlet covers, LED indicators, and low oil auto shutdown. It doesn't perform as efficiently as other devices in the list, though, achieving just eight hours of run time at 25 percent load with a full gallon of fuel.
Buy Now – $799
Generac IQ3300i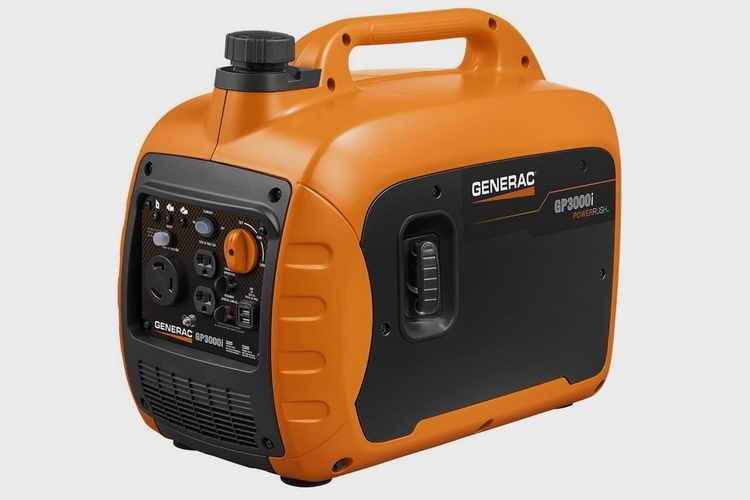 Want to max out on power while keeping things portable? Generac's portable generator strikes arguably the best balance between those two qualities, as it achieves 3,300 starting watts and 2,500 running watts in a rig that weighs a reasonable 59.5 pounds. While it produces more power, it retains a smaller one-liter fuel tank, so you only get seven hours of run time at 25 percent load rating. Yeah… you'll probably want to fill it up before turning it in at night, just so you can be sure the fans (and anything else you have hooked up) can keep running. This inverter generator also features a 30A twist-lock outlet (for RVs), low-oil auto shutdown, parallel connection support, and an Eco mode to ensure minimize electrical load (and noise), which is perfect for late-night use.
Buy Now – $849
Honda EU2200i Companion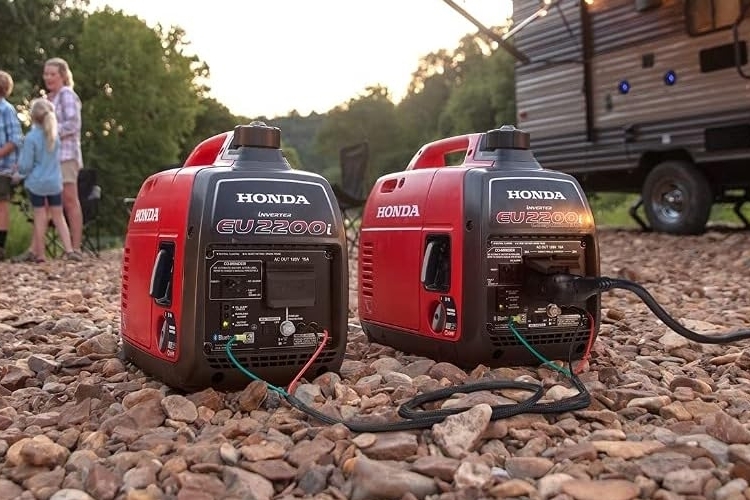 Many people consider this to be the best portable generator in the market and the price reflects, as it's definitely way more expensive than similar 2,200-watt machines. For the extra price, though, you're getting inarguably the quietest (only 47db at max loudness) and most efficient portable generator in the list. It's also incredibly powerful, to the point it will occasionally outperform its listed load ratings without overloading, which isn't surprising considering it runs a powerful 121cc motor. Yeah, it's as high-quality as you can get when it comes to the category. You know how you usually need a few tries to get that start-pull right? For some reason, it works the first time on this thing every time. That's just how reliable it is. It even comes with a companion app, so you can monitor and manage everything remotely, although it isn't as detailed as Ryobi's companion app. We opted to include the Companion model in this list, which comes with a 30A twist-lock outlet and costs an extra $100. If you don't need that, you can just opt for the non-Companion model.
Buy Now – $1,499