HTC to Unveil a Lightweight VR Headset to Compete With the Meta Quest 2
This site may earn affiliate commissions from the links on this page. Terms of use.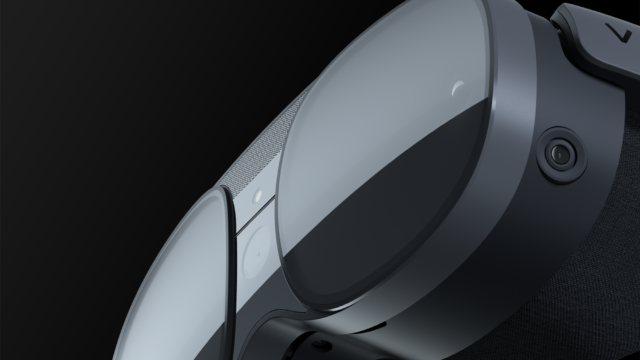 (Photo: HTC/The Verge)For the past several years Meta hasn't had to face much competition in the virtual reality (VR) market. Sure, there's been a few companies with headsets, but none have been able to hit the price-to-performance target like the Meta Quest 2. Valve tried with its Index, but its high price tag made it inaccessible to a lot of people. HTC has offered VR headsets for many years, but none of them have broken through the way the Quest has. HTC says it's looking to change that in 2023. It has shared an image of an upcoming headset that looks surprisingly thin, which it will be unveiling at CES in early January.
The company shared the image with The Verge (top), and instead of obscuring details, it shows quite a few. We can see that unlike the majority of existing headsets, they look more like goggles. HTC describes the product as a small, light all-in-one device that does VR, augmented reality (AR), and mixed reality (MR). The device has front-and-side-facing cameras, and as an all-in-one unit that doesn't need a PC connection, it'll be useful for everything from gaming to enterprise scenarios. HTC currently separates its consumer and enterprise devices, but it seems it'll be unifying them with this upcoming headset.
Go small or go home. pic.twitter.com/PUqqKn4V5E

— HTC VIVE (@htcvive) October 6, 2022
The new headset will reportedly offer a scant two hours of battery life, about equal to that of the Meta Quest Pro. It'll be paired with controllers that provide six degrees of freedom and hand-tracking. The biggest feature is the outward-facing cameras allow for full-color passthrough for MR, which will allow experiences like seeing virtual items in your own work or gaming area. This is seen as one of the next big things in this space, as you could have a virtual yoga instructor in your living room, for example. The HTC rep says the company has high hopes for this feature, but couldn't say exactly what the headset will offer on this front just yet.
Currently, HTC offers the Flow for mainstream consumers, which it describes as "immersive VR glasses." It's priced at $449, so it competes directly with the Quest 2. It also offers a Vive Pro, but at $1,200 it's in the same territory as the Valve Index and Quest Pro. However, the Vive Pro, like the Index, is tethered to a PC. It seems this new headset wants to split the difference between the two existing headsets. If so, we would expect a price of around $800 or so.
The HTC spokesperson said in the report that it expects its new headset to have several advantages over the Quest Pro. It says it includes a depth sensor, which Meta removed from its headset, to more accurately model a user's environment. HTC says the cameras are so good, you can read text on a laptop while wearing it, which is very hard to do on other headsets.
The AR/VR market is expected to really pick up in 2023, as it's been somewhat dormant for a while now. Apple is expected to launch an expensive device that will likely challenge the status quo. Sony will also be releasing its $549 PSVR2 headset in February, which has a lot of advanced features. Now that HTC has officially renewed its dedication to VR with a lightweight headset, it'll be interesting to see what it comes up with at CES.
Now read: