Nintendo Direct in September: Zelda Sequel, New Sims, Mario Add-Ons
This site may earn affiliate commissions from the links on this page. Terms of use.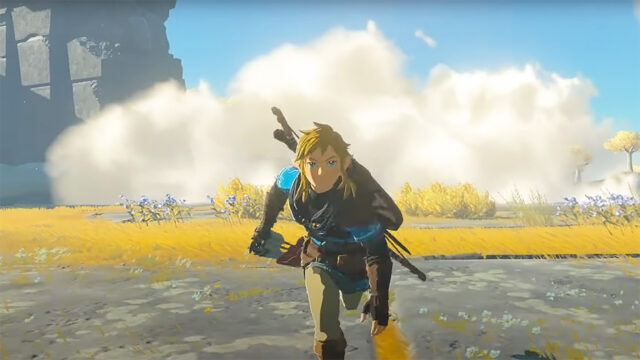 (Credit: Nintendo) More than 20 new titles were introduced yesterday during Nintendo's first full-length Direct since February. For the first time since before the COVID-19 pandemic, fans were able to watch the event together at Nintendo NY, the brand's New York City merchandise store. Nintendo's rapid-fire announcements included some highly anticipated games.
First, the elephant in the room: Yesterday's Direct confirmed the real name of what was previously called Breath of the Wild 2, a Legend of Zelda title that fans (who by now have probably replayed Breath of the Wild more than once) have been looking for since the last game's release in 2017. Though we don't know much about Tears of the Kingdom's gameplay, the upcoming game looks just as beautiful as its predecessor, with plenty of vertical scaling and a new bird-shaped glider on which Link will explore the skies. Tears of the Kingdom is set to release on May 12, 2023—not too long a wait, but one that will have fans toe-tapping nonetheless.
Another long-awaited game teased during this Direct is Pikmin 4, which will become available sometime next year. Nintendo has been teasing a new installment in the Pikmin series since the Nintendo Switch was announced years ago. Ever since, Pikmin fans have had to make do with Bloom, a mobile game that uses the player's real-life steps to explore the virtual world. Shigeru Miyamoto, creator of Pikmin and several other Nintendo favorites, didn't show any Pikmin 4 gameplay. However, he did reveal the game's ground-level perspective, which will put players side-by-side with their Pikmin pals.
Many of the titles introduced during this Direct were simulation games. Story of Seasons, a beloved farming sim, is getting a new chapter with A Wonderful Life next summer. Fae Farm, a relaxing adventure RPG, seems to combine the concepts behind Animal Crossing and Stardew Valley for a colorful village exploration experience. Various Daylife, another all-new title, balances a traditional RPG interface with daily-life play. Finally, RuneFactory 3 is getting a Special remaster for the Switch. (Nintendo also very briefly mentioned that a new RuneFactory series would eventually make its way to the handheld console, but provided no other details.)
If sims aren't your thing, no sweat: Nintendo announced a handful of additions to the Mario Bros. collection, too. Mario and Rabbids are fusing again for Spark of Hope, a 3D platformer that allows players to enjoy both popular franchises at once. Mario Party 1-3 and Pokemon Stadium 1 and 2 will be joining Nintendo Switch Online alongside 1080 Snowboarding, ExciteBike 64, and 1997's GoldenEye. Mario Strikers: Battle League, a multiplayer game that came out in June, is getting its second free update with new playable characters. And if that doesn't spice up your next party enough, MarioKart 8 Deluxe is getting another wave of popular tracks from past MarioKart games sometime during the upcoming holiday season.
[embedded content]
Plenty of other titles are making their way to Switch over the next year or so, like Front Mission 1st and Front Mission 2 remakes, Just Dance 2023, Bayonetta 3, Final Fantasy 7, Kirby's Return to Dream Land, the ever-popular It Takes Two, and a cloud version of Resident Evil Village. Those looking for a new home workout might like Fitness Boxing Fist of the North Star, a punch-based fighting game, while gamers looking for a touch of Nickelodeon nostalgia might look forward to Spongebob Squarepants: The Cosmic Shake. No matter your tastes, this Direct had something for everyone.
Now Read: