GPU Price Gouging Might Finally Be Over
This site may earn affiliate commissions from the links on this page. Terms of use.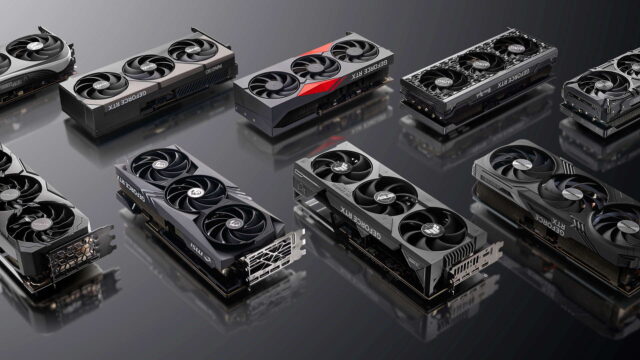 (Photo: Nvidia)With the launch of Nvidia's RTX 4090 GPUs looming on the horizon, we're all curious to find the answers to two burning questions: whether we'll be able to buy one, as opposed to watching scalpers and bots scoop them up, and whether prices will be jacked up as they have been for all previous GPU launches. Though we'll have to wait for launch day to find out the answer to the first question, we might have the answer on prices right now. Newegg has posted several RTX 4090s on its site already, and the prices are surprisingly sane.
Generally speaking, Nvidia usually undercuts its partners when it launches its GPUs. It comes out first with its Founder's Edition cards, which have always been less expensive than add-in board (AIB) prices. Then, a few weeks later the AIB boards come out with their own versions, which are usually more expensive than Nvidia's cards. That's because they have custom PCBs, advanced cooling, and so forth. This gives Nvidia the first bite at the apple and lets it suck up some early adopters. That doesn't seem to be the case this time. Nvidia priced its RTX 4090 at $1,599, and on Newegg, some partner boards are listed at…$1,599. That's a first, and a promising sign that GPU price gouging might finally be over. In the past, a GPU at that price would have debuted at $1,999 or higher.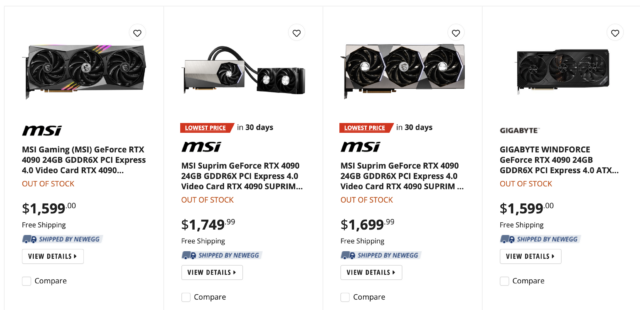 Of course, this doesn't answer the question of whether it'll be easy to click "add to cart." Bots could still ruin the party. Nvidia will be selling its Founder's Edition cards through Best Buy just like last time, with AIB boards being offered online. However, one theory floating around is there will be ample supply this time around. That's because Nvidia put in its wafer order to TSMC way back when GPUs were impossible to find, and crypto mining was still a thing. It was supposedly hesitant to launch in this environment and asked TSMC if it could reduce its wafer orders, or push deliveries back a quarter. TSMC said no, allegedly, and Nvidia ended up launching anyway. Nvidia's partners also likely ordered a lot of GPUs as well. All that has now changed, so the level of demand is currently unknown.
Although the RTX 4090 was generally well received, a lot of gamers already upgraded to 30-series GPUs due to the recent price crash. As such, many gamers don't need to upgrade right now. It stands to reason they will be sitting patiently on the sidelines for this launch. The less expensive RTX 4080 GPUs were largely panned due to their lowered specs and high prices. The 12GB card was especially criticized for its narrow 192-bit memory bus, which is unheard of on an $899 GPU. Demand for those GPUs will be contingent on their performance against cards like the RTX 3080 and 3070. It also seems like their big selling point is performance boosts from DLSS 3, which is only supported on 35 games currently. It's also exclusive to 40-series GPUs, for now.
It's an encouraging sign that AIBs are offering RTX 4090s for the same price as Nvidia's cards. Sure, there are some overclocked models with huge coolers going for higher prices, but at least we seem to have options. Whether that will still be the case on Oct. 12 when they go on sale remains to be seen. On-the-fence upgraders also might want to hold off a bit, as AMD is announcing its RDNA3 GPUs on Nov. 3. That could impact Nvidia's prices if rumors about the cards' performance are true. After all, the 40-series leaks ended up being exactly right. At least, the ones that came out closer to launch were right on the money. If that holds for AMD's GPUs, we could have an old-fashioned GPU price war on our hands in the near future.
Now Read: