Nvidia GeForce RTX 4070 Ti: A Beefy GPU Hobbled by Pricing (Again)
This site may earn affiliate commissions from the links on this page. Terms of use.
(Photo: PCMag)The rebranded RTX 4080 12GB launches tomorrow, Jan. 5. as the RTX 4070 Ti, with $100 knocked off its price tag. Our sister site PCMag has run it through its paces, and we honestly feel like we could just use a text replacement query from the RTX 4080 16GB review. Control+F for 4080, insert 4070 Ti instead. It's almost the exact same result which is that it's a potent GPU that's let down by too-high pricing.
As an example of how rough it is, Zotac didn't even have pricing for the GPU it sent for review–despite the fact the cards are going on sale tomorrow. This is once again why EVGA got out of this game entirely, we are sure of it. Regardless, it's still a powerful GPU, but pricing will vary, which makes it tough to gauge its value.
PCMag received a card from Zotac, and it looks like the company's flagship. It's named the Zotac GeForce RTX 4070 Ti Amp Extreme Airo, and it's a large GPU despite using the relatively small AD104 silicon. It's a triple-slot GPU measuring 13.5 inches in length. That's the same size as the monstrous RTX 4080 and 4090 GPUs. If you were hoping this GPU would be a bit easier to squeeze inside your case, that is not the, uh, case. However, it's possible other partner cards will be smaller. It has a maximum boost clock of 2.7GHz and a TDP of 285W. It notably has the 16-pin 12VHPWR cable that's difficult to attach properly (according to reports). It requires three 8-pin PCIe power cables for the adapter.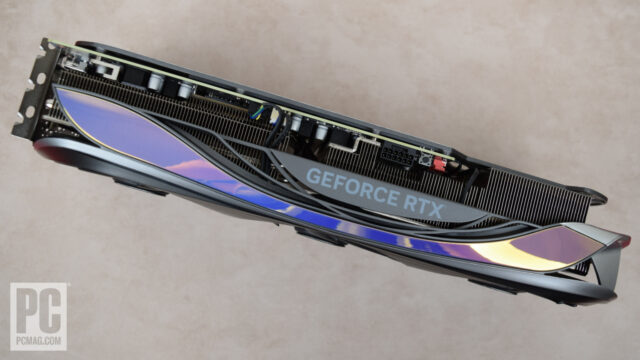 The biggest question mark surrounding the 4070 Ti is its narrow 192-bit memory bus, in lieu of the previous card's 256-bit memory bus. It marks the first time Nvidia has made such a drastic cut to an x70 GPU, and it suffers for it. That's because it's also using slightly slower memory than the RTX 4080 as well, reducing memory bandwidth in all directions. Overall it has just 70% of the memory bandwidth of its big brother, and less than its predecessor, the RTX 3070 Ti. It attempts to make up for this with higher clock speeds, however.
The Benchmarks
PCMag tested the GPU on its regular test bench. This consists of an Intel Core i9-12900K CPU that's liquid-cooled. It's on an Asus ROG Maximus Z690 Hero motherboard, with 32GB of DDR5 at 5600MHz. A 1,500W Corsair PSU is providing the juice, and it's running on a 1TB Corsair SSD with the latest version of Windows 11.
Starting with Time Spy Extreme, the new card fares well against the RTX 3090. It beats it by a decent margin, despite consuming 65W less power. That's a node shrink for you. The problem for Nvidia is the $899 Radeon 7900 XT is a bit faster. Since Nvidia lists $799 as the optional starting price, this GPU will probably be $899 as well, or in that neighborhood. The 4070 Ti does have the upper hand over the Radeon in the Port Royal test. This is expected given Nvidia's advantage in ray tracing over AMD currently. In the 4K Superposition test, we once again see it topple the RTX 3090 and lose to both Radeons.
In tests involving FSR and DLSS, it's a mixed bag. In F1 22 with it enabled, both Radeons outpace the RTX 4070 Ti. With it turned off though, the RTX 4070 Ti performs very close to the $999 Radeon 7900 XTX, which is impressive. It once again stomps on the RTX 3090, and it also beats the Radeons in Guardians of the Galaxy in pure rasterization.
In AAA games that don't utilize ray tracing, the 4070 Ti falls behind both Radeons, with evidence of some bottlenecking at 1080p at 1440p. Still, we can see the Radeons are consistently faster at every resolution when bottlenecking does not occur. If the 4070 Ti was $799, which it won't be, it would represent a fair value. But if the price goes up to Radeon levels, it's a worse value if you don't use ray tracing.
If there's one area in which this GPU shines, it's efficiency. It not only runs cool and quiet but pulls less power than both Radeons as well. Incredibly, it only hit 49C in Furmark, which is notorious for melting GPUs. When running F1 22 it was only able to get up to 67C, which is very good. It seems like the GPU's massive cooler is a bit over-engineered, but it's hard to argue with the results.
Conclusion
We have to be wary of Nvidia's marketing here. It stated the price for these cards "starts" at $799, but these will all be partner boards. So that means we may or may not see that price. Looking at other online reviews, some boards are $849, and we imagine some might be even more expensive. That is a tough sell for Nvidia, as the Radeons are clearly a better value. It's a weird end to a strange saga for this beleaguered GPU that started its life as an RTX 4080. Even with the price theoretically reduced, Nvidia might have another flop on its hands. The company's GPUs still have an advantage in ray tracing, but that's still a niche market. We'll see how the chips fall tomorrow, the 5th, when it officially goes on sale.
Now read: