Asus Unveils Two Laptops With Glasses-Free 3D OLED Displays
This site may earn affiliate commissions from the links on this page. Terms of use.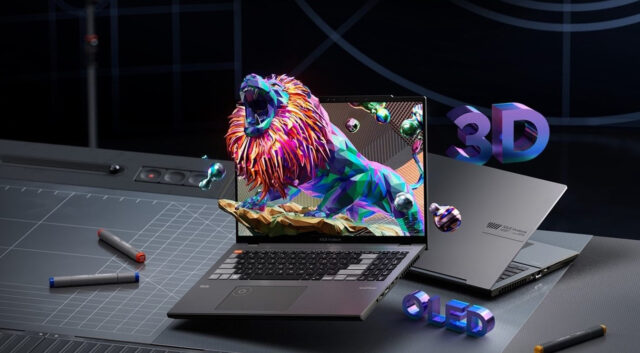 The 3D screen craze of the early teens never manifested into sustained interest, but Asus is going back to the 3D well anyway with a pair of new laptops. At CES 2023, Asus revealed the ProArt Studiobook 16 and Vivobook Pro 16X, both of which have high-resolution OLED screens with glasses-free 3D. Asus says the use of OLED makes the 3D effect superior to what you may have experienced in the past, but finding uses for 3D on a laptop might be a challenge.
Ignoring the 3D display for a moment, these laptops are filled with the latest high-end hardware. Both devices feature the most powerful version of Intel's mobile Raptor Lake chips, the Core i9-13980HX. On the graphical front, buyers will get an Nvidia GeForce RTX 4070 laptop GPU with 8GB of memory and a TDP of 150W. Connectivity is no problem, either, with two Thunderbolt 4 ports, two USB-A 3.2 Gen 2 ports, an HDMI 2.1 port, a 3.5mm jack, ethernet, and an SD card slot.
There are a few differences between the Vivobook (above) and Studiobook (below) spec sheets, including the memory and storage configurations. The Studiobook is the higher-end machine, featuring 32GB of DDR5 RAM and two 4TB PCIe 4.0 SSDs. The Vivobook has 16GB (with a 64GB upgrade) and a 1TB PCIe 4.0 SSD.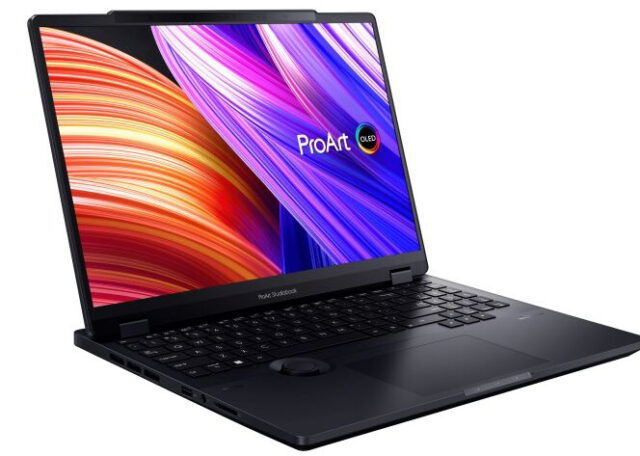 The laptops have identical 16-inch OLED displays with an impressive 3200 × 2000 resolution and 120Hz refresh rate. The panel is coated with an optical resin and a lenticular lens that splits the image into left and right halves. The display works in concert with a pair of eye-tracking cameras that can adjust the image in real time, expanding the "sweet spot" where you can see the full 3D effect.
Asus is demoing the laptops with niche applications like 3D rendering and architecture in mind. The ProArt Studiobook also has a neat rotary encoder nest to the trackpad that lets you alter brush sizes or scrub through a video. They come with a 3D model viewer, as well as apps to view 3D images and video. It also supports stylus input on the display.
Asus has not announced pricing or a release date for these laptops yet, but that's common for CES unveilings. A mid-2023 release is likely, as is a sky-high price tag with all this top-of-the-line hardware.
Now read: