Intel Arc GPU Benchmarks Imminent, New Pricing Revealed
This site may earn affiliate commissions from the links on this page. Terms of use.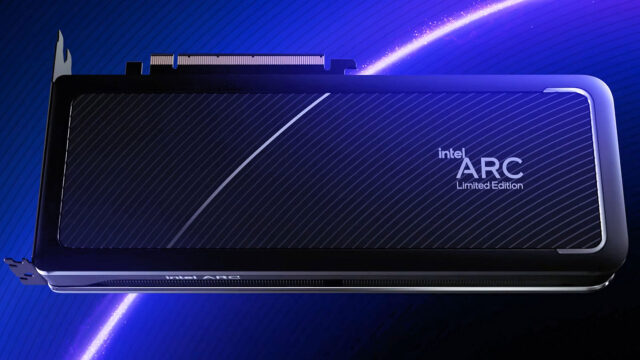 After what has seemed like an interminable period, we will finally be getting some Intel Arc GPU benchmarks soon. Yes, we previously promised we wouldn't be covering Arc GPUs until they launched because we were also tired of the "coming soon" announcements too. The official release date is Oct. 12, so we should see benchmarks before then.
Another new ripple is Intel has revealed pricing for the 16GB version of the A770, as well as the A750. Intel will also be bundling the highly-anticipated Call of Duty: Modern Warfare II with its Arc GPUs at launch. If you sign up at Intel Gaming Access, you can get three more games: Batman Gotham Knights, Ghostbuster Spirits Unleashed, and The Settlers.
Intel had unveiled Arc's A770 price at $329, but it wasn't clear at the time if that was the 16GB or 8GB version. Intel has now clarified it's for the 8GB version only. Those boards will be made exclusively by Intel's partners. The boards Intel makes, and sells, will only be the 16GB variant. That model will cost just $349, a shockingly low $20 extra over the 8GB version. This begs the question of who would even bother with the 8GB model at these prices? It seems silly to even offer it, as nobody in their right might would pass up double the VRAM. Still, that's what Intel is going with. It's unclear what the pricing will be for partner boards, however.
Intel has also revealed that the next model in the stack — the A750 8GB — will be $289. This GPU sports the same chip as the A770, except with some parts disabled. Both feature the biggest Arc die at 406mm squared, which is larger than the RTX 3060's 392mm GA104 die. This is also an 8GB GPU, which should be sufficient for 1080p and 1440p gameplay. We've yet to see partner boards for this model, however.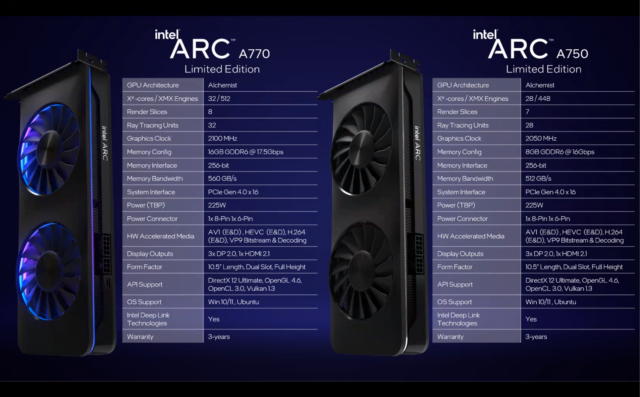 It was previously reported that Intel was having a tough time finding partners for Arc. Intel is obviously making its own cards, similar to both Nvidia and AMD. However, it will still need partners to handle demand on a global scale, assuming there's demand. It's unknown if the biggest GPU companies will ever make Arc boards, or if their contracts with AMD and Nvidia will hamper that pairing. Both of the Intel branded boards are also labeled "Limited Edition," so it's not clear what kind of volume Intel has planned for them. It will be selling them direct to customers though.
Intel also showed off some of its partner cards at its Innovation event this week. Notably missing were the big three: Asus, Gigabyte, and MSI. Instead, the boards that have been photographed are from two names we don't hear very often: Gunnir and ASRock. Videocardz showed off the cards spotted at the event, and it's notable as some of them are triple-fan, dual-slot GPUs. This is a cooling upgrade over Intel's dual-fan design. One of the Gunnir boars also has dual eight-pin PCIe connectors, whereas Intel's version has eight-and-six pin connectors. Intel's GPUs also look retro compared to monster GPUs like the RTX 4090 and 4080. Nvidia's GPUs are both triple slot, with some 4090 partner boards even being quad-slot. Intel's GPUs are also half the TDP as well, with both A7 cards listed as 225W GPUs. The RTX 4090 is a 450W card.
The impending release of these GPUs marks the end of a long journey for Intel. The company has been upfront about the challenges it's faced along the way, which included many delays. The big question right now isn't so much how they will perform, but what are the drivers like? In reviews of the previous Arc GPUs, the drivers were hammered for being buggy. Intel has spoken openly about this situation and has promised to remedy things before launch. Whether that's the case will be uncovered soon enough.
Intel is clearly looking to make a splash with its GPUs with extremely aggressive pricing, even before you even factor in the inclusion of CoD, which should be a blockbuster title. We're not sure if Intel is making any profit on these GPUs. Either way, we're excited to finally see some benchmarks and to find out whether the drivers are up to snuff.
Now Read: