The Best Monitors For Graphic Design, Photo Editing, And Other Creative Visual Work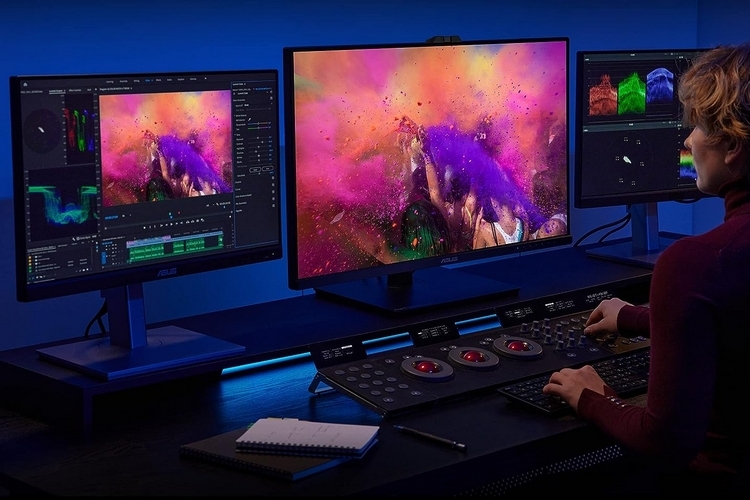 Everyone appreciates a good monitor. However, we doubt anyone appreciates it more than creative professionals for whom color reproduction, image clarity, and rich details can make a massive difference in the quality of work they can produce.
From editing photos and creating logos to making animations and producing video effects, the best monitors for graphic design will consistently deliver accurate colors onscreen that match how they appear in real life. This ensures anything you create onscreen will look the same way when transferred to a printed medium, like a poster, a graphic shirt, or a brochure. Pixel to pixel consistency is also important, such that the same colors appear in the middle as they do on the very fringes of the display.
The best monitors for graphic design deliver enough brightness to make lighter colors pop and give darker colors depth, while providing high levels of resolution, so everything looks smooth with plenty of details. Screen size also matters when it comes to these display panels, as it allows you to see more details onscreen all at once, although you'll have to balance it with ergonomics, since some excessively large monitors, especially taller ones, can be too large that they end up being difficult to work on.
Sure, you can buy the most expensive professional display and call it a day. However, that's not a really a feasible solution for everyone. As such, this roundup looks at monitors for graphic design that fall across various price ranges, so you'll likely find one that can satisfy your color reproduction needs, regardless of your current budget.
Gigabyte M27Q
While marketed for gaming, this 27-inch 1440p panel is also an excellent monitor for graphic design, especially for budget conscious creatives. It has a very wide color gamut, with coverages of 140 percent for sRGB , 92 percent for DCI-P3, and 95 percent for AdobeRGB, with 350 nits of brightness and excellent contrast allowing it to accentuate brighter and darker hues alike. Sure, you can get a 4K panel for this price (or just a little extra), but it's the color coverage that really makes this a standout for a monitor at this price point. Do note, it's the only 8-bit monitor we included in the list, as most graphic work today is done on 10-bit panels. Naturally, it will make for a superb gaming screen, with a half-millisecond response time, 170Hz frame rate, and AMD FreeSync Premium support.
Asus ProArt Display PA279CV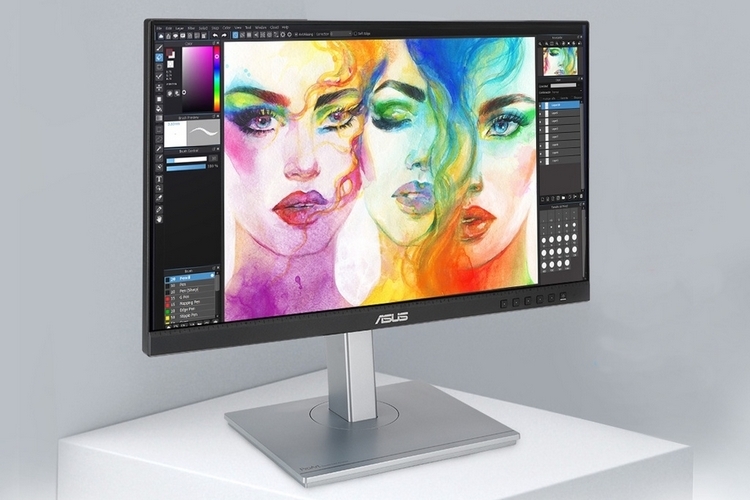 Asus makes some of the best monitors for graphic design under the ProArt line and this 27-inch IPS panel is one of the more affordable models they have on offer. Equipped with 4K resolution, it creates extremely crisp and detailed pictures, while 100 percent sRGB and Rec. 709 color space coverage, although it does fall a bit short for DCI-P3 and AdobeRGB color gamut. It's factory-calibrated, too, so you get that color accuracy right out of the box, all while being Calman-verified to ensure it's properly calibrated. Built-in preset modes allow for quick color-gamut adjustments, allowing you to switch from sRGB to Rec. 709 to DCI-P3 and more with just a few presses, while also offering sliders for color saturation, hue, temperature, gamma, and RGBCMY for making manual color adjustments on the fly.
Dell UltraSharp U3223QE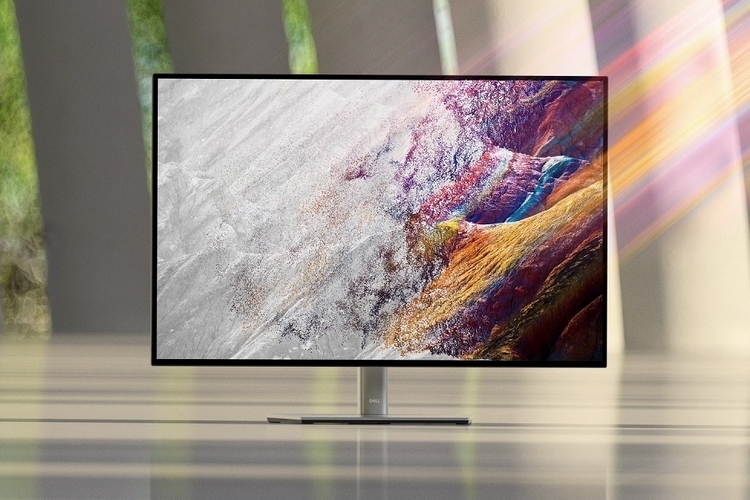 For those who want a 4K panel bigger than 27 inches, this 32-inch 4K monitor for graphic design offers excellent performance for creative work while still keeping things relatively affordable. It has 100 percent sRGB coverage, with a dedicated sRGB mode, so you can use it in that color gamut without needing to calibrate, although it does fall a bit short for other color spectrum (e.g. 98 percent DCI-P3). Still, it has excellent color reproduction for a sub-$1000 4K monitor. With 400 nits of brightness, it does a great job of making colors stand out, especially with the 2,000:1 contrast ratio and the IPS Black panel it uses. It also supports daisy-chaining, so you can hook it up to another 4K monitor at full resolution to split your screen up into two displays, allowing you to create a widescreen setup on the fly.
ViewSonic Elite XG32OU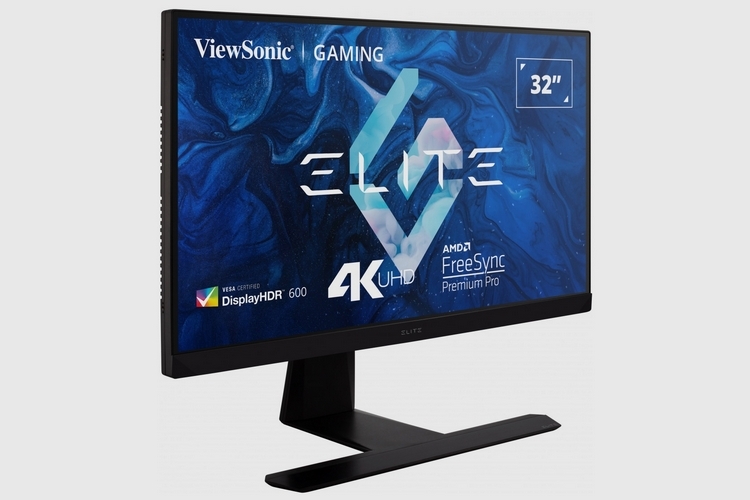 If you want the best monitor for creative work that can also serve as a top-of-the-line gaming panel, this 32-inch 4K monitor gets both tasks done very capably. For creative work, it boasts 99 percent coverage for both sRGB and AdobeRGB color spaces, so this produces incredibly colors from digital media right out of the box, while DCI-P3 gets 95 percent coverage, so it can also make excellent graphics for printed materials. It also has a maximum brightness of 400 nits, with a 1,000:1 contrast ratio, ensuring you can easily discern colors onscreen, even with complex imagery. One of our favorite features is the ability to customize the monitor's ergonomics, allowing you to adjust the height, tilt, and swivel, so much so that you can set the monitor parallel to the desk top if you want to imagine what your design looks like on paper. And yes, it's an even better gaming monitor, with 150Hz refresh rate, 1ms response time, and DisplayHDR 600 support.
LG UltraWide 5K Nano IPS LED 34WK95U-W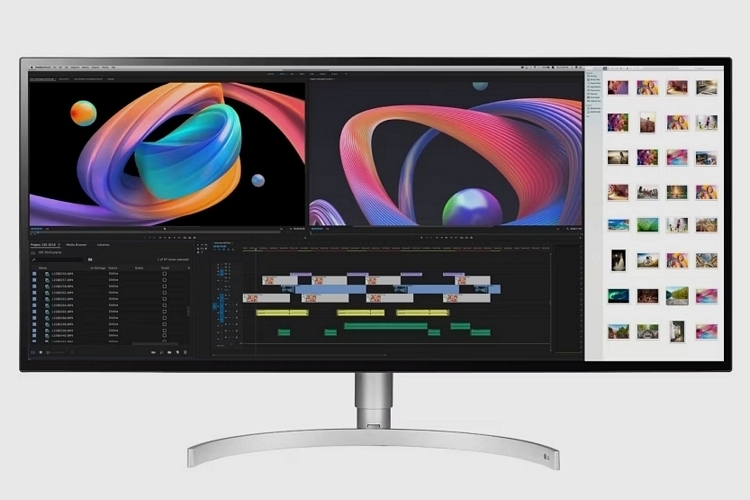 With its ultrawide profile, this 34-inch monitor gives you plenty of screen real estate with additional room on the sides (21:9 aspect ratio) allowing you to fit even more of the designs you're working on in a single panel. Even better, this has 5K resolution (5120 x 2160 pixels), so it crams a heck of a lot details on that screen. With 98 percent DCI-P3 color gamut, this monitor reproduces colors very accurately, complete with support for high dynamic range. Combined with its 1,200:1 contrast ratio and 600 nits of brightness, this displays excellent images, whether you're tweaking an image in Photoshop, refreshing an old vector logo in Illustrator, or creating colorful 3D models in Maya. If you have room on the desk for a monitor that's 39 inches wide, this definitely makes for a good pick.
Apple Studio Display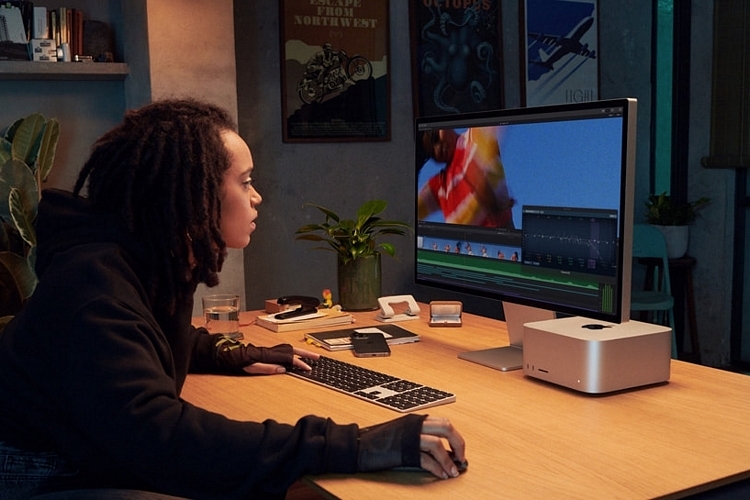 Don't want to shell out the premium required for Apple's Pro Display XDR, but still want a monitor for graphic design that's ideal for Mac computers? Apple's "affordable" display might be your best option. Sure, it doesn't have the same professional-level features as the more expensive XDR, but it brings plenty to the table all the same. For instance, you get true 5K resolution on a 27-inch panel, resulting in extremely crisp and detailed images, as well as 600 nits of brightness for incredibly bright pictures. It has 100 percent coverage for the sRGB color space and 99 percent coverage for DCI-P3, with a preset setting for the former when used with Mac computers, although you'll need to calibrate any other color spaces. The biggest omission, though is the lack of HDR support, which wouldn't be an issue if you don't work in HDR, but makes it less-than-ideal if you need that particular feature.
LG Ultrafine OLED 32EP950-B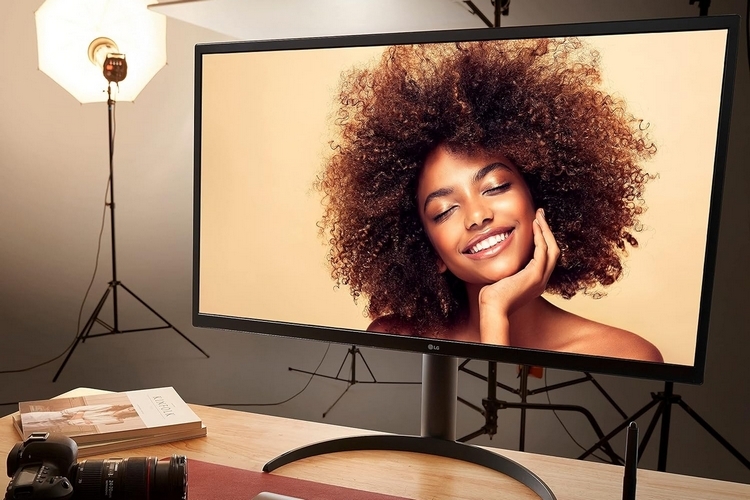 That's right, LG has managed to shrink the OLED technology from their big screen TVs into a 32-inch panel, allowing you to enjoy a 4K monitor for graphic design that delivers naturally brighter colors, deeper blacks, and enhanced details right out of the box with its ridiculous 1,000,000:1 contrast ratio. On top of the overall better picture that OLED delivers, it covers 99 percent of both DCI-P3 and AdobeRGB color spaces, with full support for HDR signals like BT.2100, PQ, and P3 PQ, so you get professional levels of color reproduction. Other features include a 178-degree viewing angle (both vertically and horizontally), an anti-glare surface treatment, and a highly adjustable stand that allows you to adjust height, tilt, and pivot on the fly.
Asus ProArt Display OLED PA32DC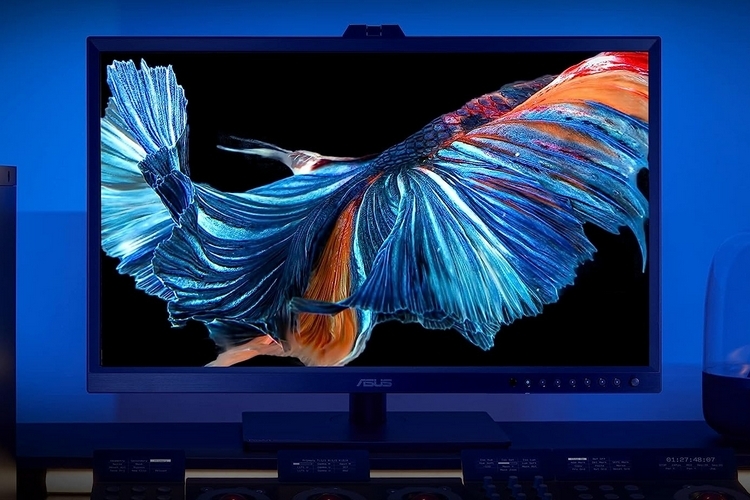 Another professional-quality monitor for graphics design, this OLED panel delivers impeccable image quality, with its 4K resolution, 10-bit color depth, and 1,000,000:1 contrast ratio. Yes, OLED monitors make for some intensely beautiful pictures. It boasts 99 percent coverage of both DCI-P3 and AdobeRGB color spaces, with arguably the best SDR performance we've ever seen, while also delivering strong results in HDR. Basically, this is as professional as modern monitors get. The customization options on this monitor is deeper than what you'll probably find anywhere else, with preset modes for sRGB, AdobeRGB, Rec. 2020, DCI-P3, DICOM, and Rec. 709, as well as HDR modes for Rec. 2020, HDR LHG, and HDR DCI. For manual adjustments, you get to tweak through four color temperature modes, five gamma presets, six-axis color adjustments, gain, offset, and even black levels. If that's not enough, they even threw in a hardware calibration tool that rotates on top of the display and a calibration utility you can use with third party tools if you prefer those.
Apple Pro Display XDR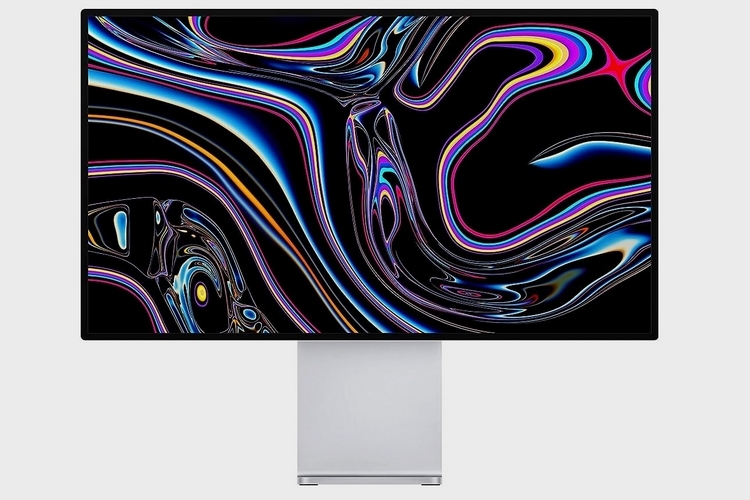 Apple's 32-inch graphic design powerhouse, this monitor boasts 6K resolution (6016 x 3384), 1600 nits of peak brightness (1,000 nits sustained), and a contrast ratio of 1,000,000:1, creating absolutely stellar pictures that absolutely feel next level in terms of image quality. Yeah, those numbers of downright mind-boggling, ensuring your monitor will be future proof for quite a long time. It covers 99 percent of the DCI-P3 color space and 97 percent of the AdobeRGB color gamut, so this is a true professional display. Of course, it comes with Apple's infamous tax, so it's extremely expensive, especially if you add in the Nano-Texture Glass (which eliminates most glare even when facing the light) and the Pro Stand (which adds tilt, height, and swivel adjustments), both of which are optional. Yikes.