AMD Ryzen 9 7950X CPU: Powerful, Gets a Bit Toasty
This site may earn affiliate commissions from the links on this page. Terms of use.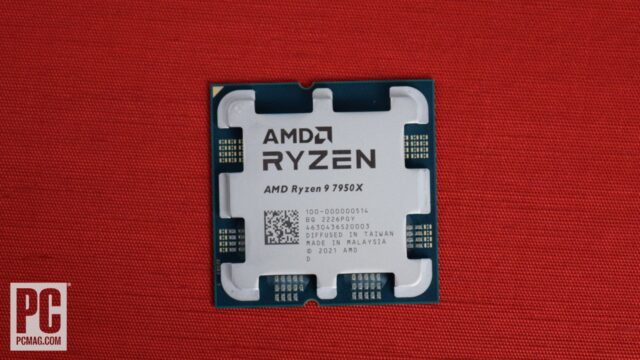 AMD's long-awaited Zen 4 CPUs are finally out in the wild. Although AMD is launching four CPUs, it naturally wants reviewers to test its flagship Ryzen 9 7950X first, so that's the bulk of the reviews so far. With its $699 MSRP, it's a bit too expensive for most folks, but it helps AMD put its best foot forward. And what a foot it is; the Ryzen chip is easily the fastest CPU on the planet, for now. Intel's Raptor Lake is expected to be arriving soon (date still TBD) and it will give AMD some serious competition. For now though, AMD gets to bask in the limelight of having vanquished Intel's 12th generation CPUs.
Prior to launch, AMD claimed it had achieved a 13 percent increase in instructions per clock (IPC) with Zen 4 over its previous architecture. That boost along with clock speed increases allowed it to claim an overall boost of 29 percent in single-core workloads. Multi-core workloads include more factors, so that number is harder to pin down, but AMD still promised major gains. Overall, the company was telling the truth according to tests from our sister site PCMag. The Ryzen 9 7950X was top dog in almost every CPU test, though it was neck-and-neck with the Core i9-12900K in some.
The Ryzen 9 7950X crushed the Alder Lake CPU in Cinebench, now the de factor multi-core benchmark for CPUs. Its score of 35,063 is leagues ahead of the Core i9's 27,131. It's notable that this score is also more than double that of the Ryzen 7 5800X3D. It's also a massive leap over the previous generation's flagship chip, the 5950X. However, the Ryzen CPU was just five points "faster" than the Core i9-12900K in the Adobe Test Suite. Things were pretty close in Handbrake too, which is a video encoding benchmark. Only nine points separated the two top-tier CPUs on that round. The Ryzen chip also lost to the Intel CPU in POV-Ray by a few points.
In gaming, the results did not show a knockout punch for AMD. Instead, it's merely able to keep up with Intel in most scenarios. In 1080p gaming, it generally was very close to Intel's Core i9 CPU but did lose by a few points in several tests. Generally speaking, AMD's CPUs have never been the fastest for gaming, 5800X3D aside, but it seems Zen 4 at least closes the gap to Intel's chips. If anyone thought Zen 4 would crush Intel in gaming, they're likely to be disappointed in these results. They're not bad, just very similar to what Intel offers.
One new "feature" of Zen 4 is it's designed to run very hot, up to 95C. That might surprise some folks, but it's exactly what was reported ahead of its launch. AMD's tiny chiplets and high core counts make for a lot of heat in a very small area. PCMag tested its chip with a 240mm AIO and saw it hitting 95C without any overclocking involved. It says excessive heat is why AMD doesn't include an air-cooler with its CPUs this time; they wouldn't be able to handle it. You could probably get away with a beefy Noctua cooler, but a lot of Zen 4 owners will likely be investing in a liquid cooler to keep temps at bay.
AMD has seriously pumped up with power requirements with Zen 4, with expected results. As a refresher, this chip is rated at 170W TDP, with a maximum of 230W. PCMag's tests showed it pulling 565W from the wall total running Adobe Premier, which is higher than any previous AMD processor. That's 41W more than the Core i9-12900K system too, so it's a power-hungry CPU indeed. Those temps should only occur during multi-core workloads. PCMag analyst Michael Justin Allen Sexton told us that during gaming the 7950X ran at 70C, which is fine for most people.
Overall, Zen 4 is pretty much exactly as AMD stated it would be. It's a huge leap over Zen 3, and also faster than Alder Lake. As we mentioned before, that doesn't mean much since Raptor Lake is its true competitor, and we don't have those numbers yet. But it's a solid showing for AMD, as it's been able to uphold the legacy of its Zen architecture in its fourth iteration. It delivers record-breaking performance along with an entirely new platform with all the latest technologies, including DDR5 memory and PCIe Gen 5 storage. For now, the ball is in Intel's court, and it's clearly itching for a fight. It's already talking about how its next-gen CPU can hit 6GHz.
Now Read: