Apple to Use Globalstar for SOS Satellite Communication on iPhone 14
This site may earn affiliate commissions from the links on this page. Terms of use.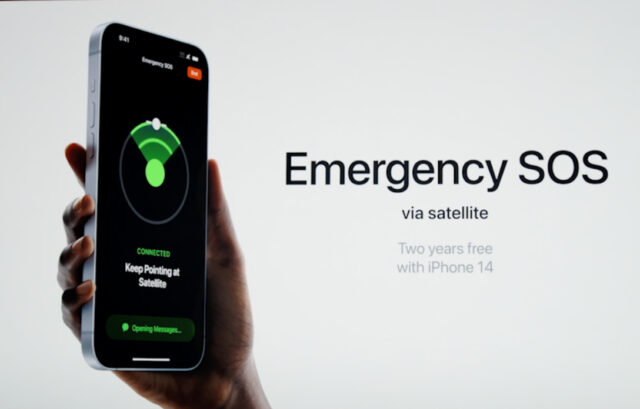 (Image: Apple)At its Far Out event this week, Apple announced that it was introducing a brand new safety feature to the iPhone 14. The feature, referred to as Emergency SOS, will allow those with the new iPhone to connect to emergency services via satellite if they find themselves lost or injured without cell service.
The new feature is owed to an updated wireless chipset exclusive to the iPhone 14/Plus and 14 Pro/Max. Apple didn't disclose exactly how users will initiate satellite SOS (i.e. via lock screen widget or an app of its own), but it did show a number of options users can select in a crisis: vehicle issue, sickness or injury, crime, lost or trapped, and fire. Users will be instructed to point their iPhone toward a satellite above—something Apple built an orientation interface to help users with. Once connected, the interface will notify first responders of the user's location and tell the user to keep their phone pointed in the satellite's direction.
The interface will also offer a few quick messages users can select to communicate with first responders while they wait. Each signal conveyed via satellite will bounce down to a ground station, which will relay the message to a public safety access point (PSAP), or emergency communications center. But not all PSAPs support text-to-911. Smaller PSAPs often surround the exact types of places where you might get lost or injured without cell service, like mountain ranges and rural areas. They also receive sparse funding and are slower to adopt new technologies when compared with larger PSAPs. (I say this as someone who worked for one of the country's largest PSAPs before moving to one that covered a mountainous 16 square miles.)
Apple's solution to this problem is to build and staff local relay stations, which will orally communicate information to public safety agencies without text-to-911 capabilities. This still creates a delay—and room for error—in the communication process, but given that stranded iPhone users wouldn't otherwise get much help out of their phones, it's certainly better than nothing. That being said, the service is only free with a new iPhone purchase for the first two years; after that, users will be expected to pay for access to the feature themselves.
Though Apple didn't say which satellite company it was contracting to support the feature, SEC filings from Wednesday confirm that Globalstar will be offering iPhone users the satellite connectivity they'll need to reach first responders in a pinch. Globalstar followed up this news by saying it was allocating 85 percent of its current and future network capacity to Apple, as well as prioritizing iPhone SOS activity.
Satellite SOS accompanies one other new safety feature exclusive to the Apple Watch Series 8, iPhone 14, and 14 Pro: crash detection. Using an advanced gyroscope and a new dual-core accelerometer, these devices detect when a user has experienced a crash and alert emergency contact and public safety services if the user doesn't intervene. As of now, this feature does not appear to mesh with satellite SOS.
Now Read: