Bombshell: EVGA Terminates Relationship with Nvidia
This site may earn affiliate commissions from the links on this page. Terms of use.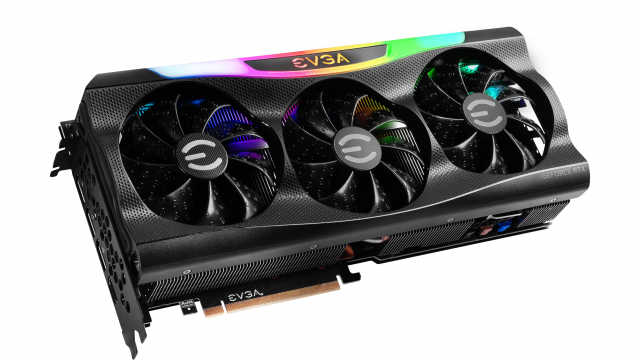 In what can only be described as a shocking revelation, EVGA has announced it is terminating its partnership with Nvidia. It will no longer make or sell Nvidia-based GPUs, period. The news comes from Gamers Nexus, which got the info straight from EVGA's CEO. The company has always only sold Nvidia GPUs and has never offered AMD (or Intel) components. It does sell motherboards, power supplies, coolers, and peripherals, but GPUs are the bulk of its product line. To say this will put the company in a tough position is putting it lightly.
Gamers Nexus' video covers the entire sundry affair, starting with what it says are "the facts." The video host says he got these facts straight from EVGA's CEO:
It will cease making GPUs.
Existing customers will still get support for their warranties.
The company has stock on hand for replacements/warranties.
It expects to run out of GPUs by the end of 2022.
It will remain in business, it's not shutting down.
It will not sell its business.
EVGA won't start selling new products.
It won't become a partner with Intel or AMD.
It had made engineering samples of RTX 40-series but won't sell them.
EVGA believes Nvidia has screwed it over (its words).
EVGA's side of the story is that the decision is about respect and principle, as opposed to a financial decision. It does not like how it's been treated by Nvidia, and would rather quit selling GPUs than keep dealing with the company. As one example, it stated that Nvidia doesn't tell partners launch prices for GPUs until Jensen reveals it onstage. Nvidia also reportedly sets top-and-bottom limits on card pricing. This would theoretically discourage innovation on the high-end, as well as prevent partners from offering budget GPUs. Gamers Nexus says they've heard similar complaints about pre-launch treatment from MSI, Asus, and Gigabyte.
Another motivator for EVGA is it says Nvidia undercuts its partners by selling Founder's Edition cards at a lower price. Nvidia can do this as it makes the board itself, so there's no added cost for a third party to tack onto it. EVGA's head of operations also said the company has made Nvidia aware of its concerns on many occasions. He summarized the situation by saying, "You can only ask so many times."
Generally, the company's CEO says it's tired of how Nvidia has been treating it. It's not getting the recognition it thinks it deserves from Nvidia, and it's not going to put up with it anymore. At the same time, the CEO was adamant against selling the company. He said it would surely be sold to investors, who wouldn't care about it as much as he does.
EVGA revealed that 78 percent of its revenue comes from GPUs and 20 percent from PSUs. The remaining two percent is made up of motherboards and peripherals. Additionally, its profit margin on PSUs is a shocking 300 percent higher than its GPU margins. So while it doesn't make much profit on GPUs, apparently, it still represented the bulk of its revenue.
In order to be fair to Nvidia, Gamers Nexus pointed out some of the blame EVGA might shoulder for the decision. It pointed out the company ordered too many GPUs during the crypto mining boom. We've pointed out some of EVGA's remarkable sale prices on its current RTX 30-series cards, as it's desperately trying to get rid of them. Those included discounts up to $1,000 off an RTX 3090 Ti. Apparently, all those discounted GPUs represent hundreds of dollars in loss for each GPU sold. The company reportedly also lost money with the RTX 20-series for the same reason: it ordered too many and couldn't sell them all. These factors might have contributed to its decision to cut ties with Nvidia as well.
EVGA's future is uncertain. The company has 280 employees worldwide, and it already laid off 20 percent of its Taiwan workforce a few months ago. However, EVGA says it will not be laying off more people, but there may be attrition due to cancelled projects. EVGA says it has no debt, has liquidity, and owns all of its buildings.
Going forward, EVGA says it has no plans to work with AMD or Intel. That's a surprise given how both companies are on the cusp of launching next-gen GPUs, and EVGA has all the expertise in place. The video ends with an anonymous Nvidia employee reinforcing EVGA's complaints, in spirit. This employee states that Nvidia's CEO sometimes wonders why board partners "make money for not doing much?" Nvidia knows it doesn't have the supply chain to make all the boards itself. The employee references how Apple sells all its hardware itself, thus making a profit on every unit sold. Nvidia would reportedly like to mimic Apple some day, but right now, it doesn't have the global supply chain necessary to carry the weight alone.
We'll be waiting to see if Nvidia responds publicly to this situation. EVGA has been an Nvidia stronghold for over 20 years, so this type of action is as abrupt as it is shocking. We wouldn't be surprised if it ends up switching camps to AMD given the rumors about RDNA3's performance. Intel has also been reported to be having a tough time finding partners for Arc, so this could represent a golden opportunity for Chipzilla.
Now Read: