Intel Says It's Committed to Discrete Graphics Despite Rocky Arc Rollout
This site may earn affiliate commissions from the links on this page. Terms of use.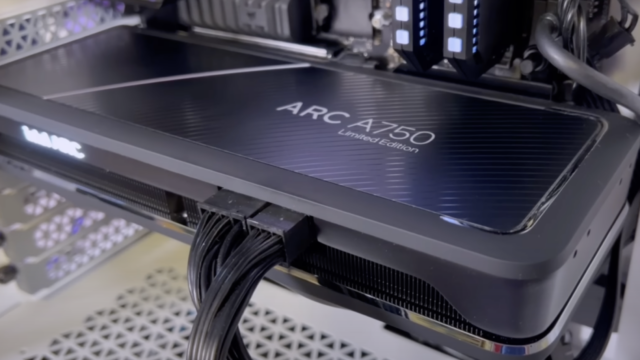 A lot of press attention has been rightly focused on Intel's long-awaited launch of its Arc discrete GPUs. As you are well aware, there have been many delays, and now that it's September we still don't have a firm launch date, pricing, or any specific information on its high-end GPUs. The company had previously stated these GPUs would launch "later this summer," which is precisely now. The constant delays along with the underwhelming first GPU to launch — the Arc A380 — even caused industry heavyweight Jon Peddie to advise Intel to abandon its fledgling effort to stop the bleeding. In response, Intel has now gone on the record saying its discrete GPU program is not going anywhere.
Tom Peterson, who was famously poached from Nvidia recently, made the remarks to PC Gamer. In his statements, he doubled down on Arc's importance. "We're not going anywhere on our discrete business. And our discrete business is the basic technology development that goes both into the data center and integrated GPUs," said Petersen. Asked to summarize his position, he emphatically stated, "Yeah, we're not going anywhere. I feel like there's a lot of FUD (fear, uncertainty, and doubt) out there. I'd just like to be clear: we're not going anywhere."
Despite the rocky rollout of Arc, Peterson says the reason Intel is committed to Arc for the long haul is the company sees it as a critical technology, both for gamers and for the data center. This echoes a lot of comments on the previous article we posted about Peddie telling Intel to ditch the effort. Intel has to have a competitive GPU going forward, for several markets in which it competes with AMD. To make this point, Peterson stated, "The thing I happen to believe—Pat, and I, and Roger, and Lisa, and Ryan, everybody is aligned on the idea—that graphics is a critical technology to the client, is a critical technology to the data center, and we want to start competing in the mainstream area where our competitors are making a tonne of money. So all three of those things are critically important for Intel."
Also, we must be close to the launch of Intel's first-generation product — Arc Alchemist — because Peterson says most of the engineers have already moved on to its next-generation product, Battlemage. "Most of our ASIC team is on Battlemage," he said. "A small portion of it is on our future, which is Celestial. And then there's a very small portion on Alchemist today, but they're kind of different function sets."
The fact that Intel is already working on the next-generation architecture is certainly encouraging. It probably wouldn't be bothering if it was just going to 86 the entire project. Still, some of that FUD that Peterson mentioned came directly from Intel. After all, it publicly declared it was delaying the Arc launch due to software issues previously. Then it said it won't be hitting its sales goals due to its own drivers. It also was found to have offered CPUs to people who won an Arc GPU in its scavenger hunt. There was also that time when Intel said it submitted 43 tickets to its programmers to fix driver issues discovered by Gamers Nexus. It's those types of events that are leading to uncertainty. That said, we don't doubt there's a lot of naysayers online, and on YouTube. But Intel has a role in this as well.
We doubt there's anyone who really wants to see Intel fail at this endeavor, as every gamer would welcome healthy competition in the GPU market. After all, we just want the best GPUs we can get for our hard-earned dollars, and if Intel can provide that service, or force AMD and Nvidia to lower prices, everyone wins. All that said, we're glad to hear Chipzilla is in it for the long haul.
Now Read: