Google Tries to Boost Pixel 7 Pre-Orders With Strange, Censored Video
This site may earn affiliate commissions from the links on this page. Terms of use.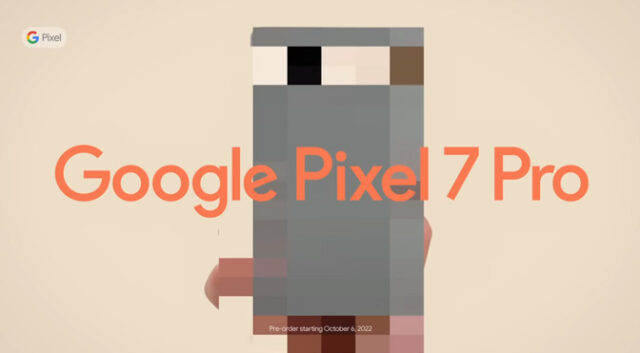 Google will unveil its new flagship smartphones in just a few weeks, and it has released a strange, censored video to pump up the hype. It's strange because we already know what the phones look like, plus Google shows them at the end of the ad too. The ad also reveals the pre-order date, which coincides with the announcement.
In the debut Pixel 7 ad, which you can see below, Google hands the unreleased Pixel 7 Pro to several people and films their reactions. It's about what you'd expect — the test subjects count the cameras, talk about the premium feel, and try to steal it. Through all this, the phone is pixelated, being revealed only at the end of the ad. There's also a passing mention of the Pixel Watch, which will be released alongside the new phones.
For those who have been following Google's smartphone efforts, the design of the Pixel 7 and Pixel 7 Pro are old news. Google revealed the devices at its I/O conference in May 2022. This is a trend for Google in recent years. It has been showing off its upcoming hardware earlier and earlier, heading off the inevitable leaks. Still, this ad has been uploaded to YouTube without any reference to the original teaser. Someone unaware of the Pixel 7 previously would probably think the censoring is much less odd.
[embedded content]
The ad notes that pre-orders will be available on Oct. 6, which is also when Google plans to hold its announcement event. The device will likely ship toward the end of the month. One unanswered question is the price, and the censored video doesn't do anything to clarify that. The Pixel 6 was $600 and the 6 Pro was $900. Google has since launched the Pixel 6a at $450. It wouldn't be unthinkable to see a price bump for the 2022 models.
Google's Pixel 7 and 7 Pro will have a new version of the company's custom Tensor processor. While this chip tends to fall behind others in benchmarks, Google has optimized its version of Android around Tensor's machine learning capabilities. This enables on-device speech-to-text, enhanced photo processing, and adaptive battery management. It will ship with Android 13, the latest version of the OS. Google's phones have longer update support than most, guaranteeing the new Pixels will get at least three new OS versions in their lifetime, plus security patches for five years.
Now read: