HTV Unveils Vive XR Elite Standalone AR/VR Headset at $1,099
This site may earn affiliate commissions from the links on this page. Terms of use.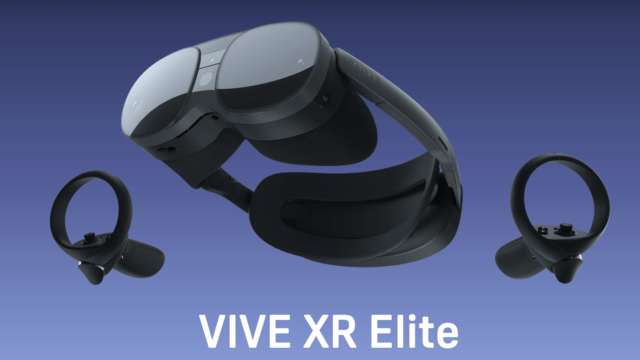 HTC has been teasing a lightweight augmented reality (AR), virtual reality (VR) headset for a few weeks now. At CES it has finally pulled the wraps off it, and it is indeed a feathery-looking device. It's called the Vive XR Elite and despite its diminutive nature, its price tag is assuredly not at $1,099. It was originally thought HTC was going to be taking on the Meta Quest 2. However, we now see it's aimed its sights a bit higher than that. It's not quite in Meta Quest Pro territory but adjacent. It'll be taking on the premium headsets instead, including the Valve Index and the upcoming Apple headset.
HTC wasn't subtle that it was building a lightweight device in its teaser campaign. The most recent said, "Go small or go home." The final product is indeed small and lightweight, and more akin to goggles than other headsets despite being a standalone device with no need to tether it to a PC. It offers both AR, VR, and mixed reality via full-color passthrough. It weighs 1.4 pounds (625g), according to The Verge, which is actually heavier than the 1.1-pound (500g) Meta Quest 2. It's lighter than the Quest Pro, however, which weighs 1.6 pounds (722g). However, HTC has added a "glasses mode" that lets you reduce the weight down to a lithe 8.4 ounces (240g). In this mode, the strap and battery are removed. You can then connect it to a computer for stationary media consumption.
[embedded content]
As far as the specs go, they're a bit pedestrian. Per-eye resolution is 1920 x 1920, which is about the same as the Quest 2 and Pro. It offers six degrees of freedom with inside-out tracking, which is pretty much the standard these days. It also runs at a 90Hz refresh rate with a 110-degree FOV. Powering it is a Qualcomm Snapdragon XR2, which is also in the Meta Quest 2. It includes four cameras to track the movement of your hands and the headset, plus proximity and depth sensors for more accurate tracking. Meta famously jettisoned the depth sensor from its Quest Pro despite planning on including it originally.
The battery module clips onto the back of the head strap as a counterweight and has a capacity of 26.6Wh. It's a hot-swappable pack too, with each one good for about two hours of activity. A small battery built into the headset lasts about 10 minutes, long enough to swap the main one out. The controllers provide about 10 hours of battery life, and everything charges over USB-C.
The Vive XR Elite is available for pre-order right now. All you need is a wad of cash and a 10-by-10-foot area in your home, according to HTC. It'll be arriving in February and you can get five free games if you order before Feb. 15.
Now read: