Intel Accidentally Confirms Specs of Raptor Lake Launch CPUs
This site may earn affiliate commissions from the links on this page. Terms of use.
So far, all the information we've received about Intel's 13th generation Raptor Lake CPUs has been through leaks. An engineering sample benchmark here, a leaked sales deck there, and so on. Now Intel has joined in on the fun by leaking the specs for its launch CPUs, though it didn't mean to. The company put up a guide on its website to help people choose a gaming CPU and unwittingly included specs for its 13th generation CPUs, despite the text saying it was describing 12th generation parts. Naturally, the internet noticed, and Intel has now removed the offending specs. Still, it's good to get some info straight from Intel for once.
The slip-up was caught by noted Twitter leaker Momomo_us, who snapped a screenshot (below). If you go to the page where it was found, Intel has swapped the info out with specs for its Alder Lake CPUs. There are no big surprises in Intel's slip-up. However, it does confirm the info in the leaked sales decks from a few days ago. It'll be launching with three CPUs, and the boost clocks are confirmed as well. Oddly, Intel left out the highest clock speeds some of the CPUs could reach with Thermal Velocity Boost and Turbo Boost Max 3.0. Our guess is because this guide was written for newbs, Intel didn't want to confuse anyone. Still, you'd think it would have listed the absolute highest clock speed allowed for each CPU. Instead, it went with a more conservative approach and listed only the max performance core frequency.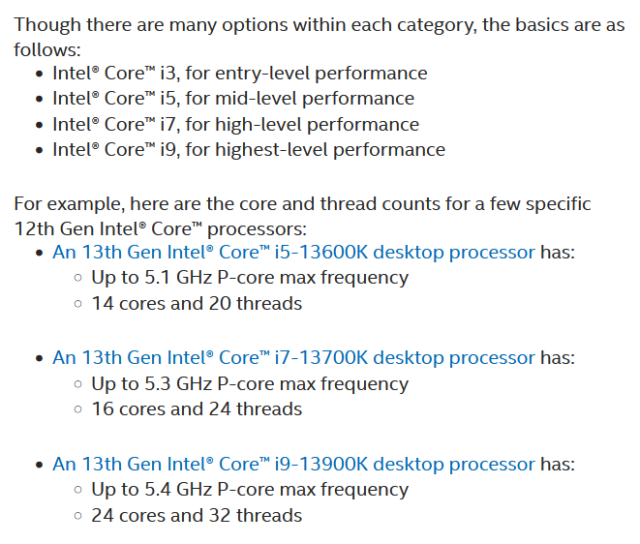 For example, it starts off with the 14-core, 20-thread Core i5-1300k CPU. It notes it has a 5.1GHz P-core boost clock. Since that CPU doesn't offer advanced overclocking, that's as far as those cores will go. However, its efficiency cores can also be overclocked. Those cores' base clock is 2.6GHz, but they can be overclocked to 3.9GHz.
On the Core i7-13700K, it lists its P-core max frequency of 5.3GHz. This CPU will be allowed to overclock 100MHz higher than that though, according to the previously leaked slides. That gives it a Turbo Boost Max 3.0 clock of 5.4GHz. Like the i5 though, this CPU doesn't offer Thermal Velocity Boost, so that's as high as it'll go, theoretically.
The flagship Core i9-13900K however, offers both Turbo Boost and Thermal Velocity Boost. Those combined will allow it to reach clocks of 5.7GHz and 5.8GHz, respectively. There's also the likelihood of Intel releasing a "KS" version at some point with a 6GHz max boost.
So overall, nothing mind-blowing here, but at least we have confirmation. Intel will launch Raptor Lake with six SKUs total, as previously reported. Each CPU will be offered in both K and KF variants, with the latter lacking an integrated GPU. Intel is holding an "Innovation" event on Sept. 27 and 28, according to PCMag, so we assume the CPUs will debut there. That's also the same day AMD's Zen 4 CPUs will be available to the public, so it seems these two companies are at it again. Also, since AMD has already released its pricing for Zen 4, it'll be very interesting to see how Intel responds. We also wonder if it'll use the event to launch its Arc GPUs. After all, it said a week ago the launch would be "very soon."
Now Read: