Intel Confirms Raptor Lake Launch to Include 6 CPUs
This site may earn affiliate commissions from the links on this page. Terms of use.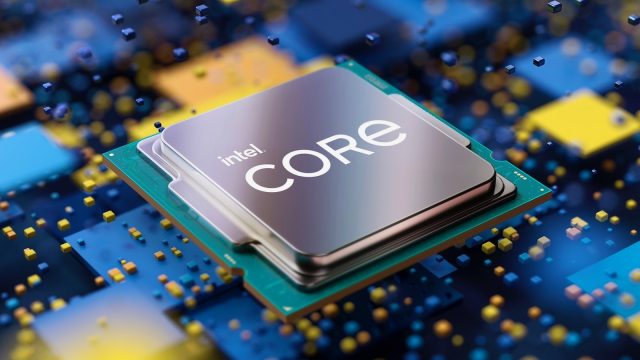 Intel is on the cusp of launching its 13th Generation Raptor Lake CPUs. These chips are an evolution of its Alder Lake architecture, with more efficiency cores, higher clocks, and other mild upgrades—the sort of "tock" refinement of a technology we've seen in previous years. As the company prepares to launch, it's begun training its sales staff with new talking points for Raptor Lake. This obviously involves a lot of Powerpoint, along with conference calls with global sales teams. The folks over at Igor's Lab have gotten ahold of Intel's sales deck, allowing us to see its "go to market" strategy for Raptor Lake. Overall there's nothing too surprising here, but it does show us what Intel considers the defining features of the new platform.
The company confirms it's launching with six CPUs: The Core i9-13900, i7-13700, and i5-13600. All six CPUs will be offered in both K and KF variants, with K being unlocked and KF being unlocked and without an integrated GPU. We also see the spec differentiation here, as only the flagship CPU has Thermal Velocity Boost at "up to" 5.8GHz. This will allow a single core to reach those clocks if there's enough thermal and voltage headroom. Additionally, we see that only the i9 and i7 SKUs offer Turbo Boost Max 3.0. This allows two cores to boost to the specified clocks, if there's ample power and cooling.
That feature does not appear in the Core i5 models, though they can boost to 5.1GHz for the performance cores. That's a 200MHz boost over the Alder Lake variant. The Core i9 gets a 500MHz boost clock, uh, boost, and the Core i7 gets a 400MHz maximum clock increase. The chart below also confirms a maximum TDP of 253W for the Core i9 and i7 variants. This will be going up against AMD's 170W Ryzen 9 7950X and 7900X CPUs, with a maximum of 230W. Intel is rumored to offer an "extreme performance" mode on some Z790 boards that will lift this restrictor, allowing for up to 350W of juice to be consumed.
Overall the banner features of Raptor Lake, according to slides obtained by Igor's Lab, include more efficiency cores, faster memory support, better motherboard compatibility than AMD, more cache, and faster performance cores. Starting at the top, the more cores thing is simple; it's adding eight more efficiency cores to the i9 CPU, for a total of 16. This will allow for Intel's first 32-thread CPU in the Core i9-13900K as the performance cores are hyper-threaded. Finally, it'll be able to compete thread-to-thread with AMD's Zen 4.
As far as memory goes, Raptor Lake will support DDR5 5600 MT/s, compared with Alder Lake's maximum of 4800 MT/s. It will also support DDR4 for budget-friendly builds, which is a big selling point compared with the DDR5-only Zen 4. It's unclear what AMD's target is as far as memory speeds go but 6000 MT/s has already been discussed as the sweet spot. Either way, "better compatibility" than AMD is a legit point here. The same goes for its motherboard support, as it will work with older 600 series motherboards. That's not the case for Zen 4, which requires an all-new motherboard purchase, along with new memory.
On the cache front, Intel is taking a page from AMD's playbook. It's increased both L2 and L3 cache for Raptor Lake. For L2, it used 1.25MB per performance core in Alder Lake. That's been increased to 2MB per core, for a total of up to 32MB. It's also doubled the L2 on the efficiency cores from 2MB to 4MB per, and that's shared between four core clusters. L3 has been increased from 30MB of shared memory to 36MB total.
The new performance cores are called Raptor Cove, as opposed to Alder Lake's Golden Cove cores. They're made on a refined Intel 7 process, allowing for higher clocks. The efficiency cores, called Gracemont, are unchanged, but there are more of them.
The only other significant change Intel is pushing is more PCIe 4.0 lanes compared with Alder Lake, going from 12 to 20. At the same time, it's reducing the number of PCIe 3.0 lanes from 16 to eight. PCIe 4.0 and 5.0 lanes to the CPU are unchanged at four and 16, respectively. The Z790 chipset will offer one additional USB 3.2 lane, which makes five versus four on the Z690.
All in all, a mild upgrade, as expected. However, it might be just what Intel needed to do before it moves onto its "disaggregated" architecture with Meteor Lake. Raptor Lake was always a stop-gap before Intel takes a huge step forward with its first tile-based processor. Despite its evolutionary design, leaked benchmarks have shown it making impressive gains over Alder Lake. How that will fare against an all-new AMD architecture remains to be seen.
AMD is launching Zen 4 on Sept. 27. Intel is rumored to be launching around the same time, as it looks to steal AMD's thunder.
Now Read: