Intel, Samsung Show Off Expandable Laptop Display
This site may earn affiliate commissions from the links on this page. Terms of use.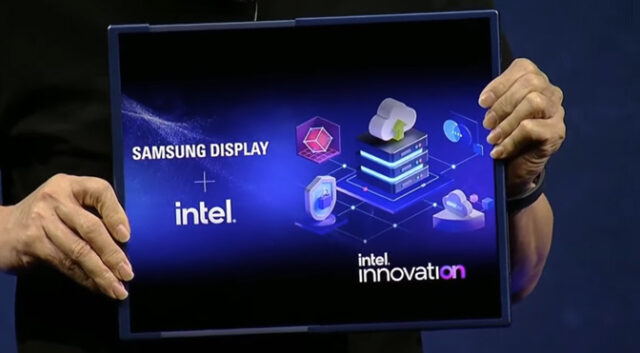 Intel's 2022 Innovation event just wrapped up, and it featured a peek at new Intel-powered technology like Unison, as well as the much-anticipated pricing for its Arc GPU and Raptor Lake CPUs. It also teamed up with Samsung to show off a concept slidable PC. The device was only on stage for a few minutes, but it stole the show.
When Samsung Display CEO JS Choi first held the device aloft, it looked like a typical tablet, but with a tug on one side, it expanded into a 17-inch landscape display. The demo hardware did not appear to be a fully functional PC, but Choi described it as a "display for PC." We've seen foldable phones and even a few foldable laptops before, but a slidable PC would be new. You can see the entire demo in the timestamped video below.
Choi and Intel's speakers spent a few minutes sliding the display back and forth (and they do seem genuinely giddy about it), but there was no discussion of how the screen worked. If it's anything like other slidable prototypes we've seen, the flexible OLED rolls up inside the frame, and indeed, you can see a faint crease in the screen where the panel would have to double back on itself when in the smaller configuration.
[embedded content]
As a piece of hardware, Samsung's slidable screen looks incredible. We already know the company can make a foldable that works — the latest generation of Android foldables are surprisingly durable, with software integrations that make the form factor shine. The Galaxy Z Fold4 even supports stylus input, and the flexible OLED doesn't get marked up by the tip. However, adding a slidable display to a Windows laptop might not yield the same results. Windows is only modestly optimized for touch, and Samsung's display still measures 13 inches when compressed. There is little functional difference between using Windows on a 13-inch screen versus a 17-inch one.
Despite these potential issues, we may well see laptops and convertible PCs with these Samsung slidable screens in the coming year. The laptop market is cooling after a pandemic-fueled climb, but high-end computers are still selling well, and OEMs can eke out more profit from these devices. You can bet that any laptop with this technology will be expensive. The second-gen Lenovo X1 foldable PC retails for $2,500, and the Z Fold 4 is $1,800, and both have smaller displays than the one Samsung showed off at Intel Innovation.
Now read: