Asus Breaks World Record by Overclocking Core i9-13900K to 9GHz
This site may earn affiliate commissions from the links on this page. Terms of use.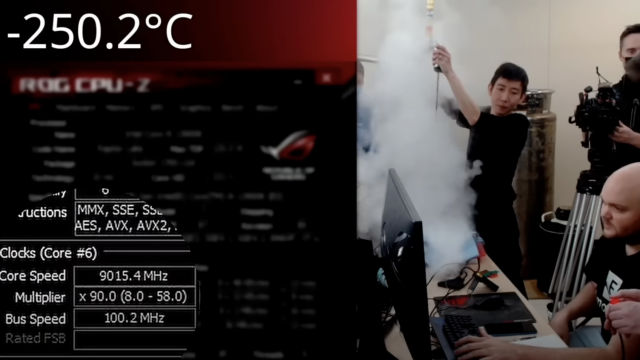 Before Intel's new Raptor Lake chips launched, we were impressed that someone could get a Core i9-13900K up to 6.2GHz with a liquid chiller. Now that level of performance has been shattered by the overclocking team at Asus. The team has successfully taken a 13900K over 9GHz, breaking the world record for CPU clock speeds. This is the first time a CPU has been able to break the 9GHz barrier. The same team had previously pushed the same chip to 8.81GHz in October, breaking AMD's grip on the title. It had held it for over eight years thanks to an 8.7GHz overclock on an AMD FX-8370 back in 2014.
The key to the team's success this time was that it used liquid helium instead of liquid nitrogen. Apparently, helium can get a lot colder than LN2, but it evaporates almost instantly so it's trickier to use. In order to hit 9GHz, the team had to lower the CPU socket temp to -250C. A blowtorch was used around the mainboard to keep its temperature up and prevent condensation during the run. The team's platform was an Asus ROG Maximus Z790 Apex, which sells for around $800. Asus announced the record-breaking run on Twitter, and posted the video below as well.
[embedded content]
There's some confusion about the exact chip used for the run. Although it's clearly labeled as a Core i9-13900K in CPU-Z, Intel also posted a video that shows a Core i9-13900KS chip. Intel has yet to announce the 13900KS, which is a binned 13900K that can boost a single core to 6GHz. That's 200MHz higher than the existing 13900KS. This seems to imply it's a binned chip that Intel had preselected to become a 13900KS at some point due to its overclocking capabilities. This is a so-called "golden sample" CPU. Intel is apparently giving these chips to overclockers now, hence this world record run.
The overclockers responsible for the feat are named Elmor, who is part of the Asus overclocking team, and a person named Skatterbencher. Videocardz also says the Z790 Apex they used was upgraded with improved signaling and VRMs for the attempt. The CPU frequency has already been recorded in HWbot, making it the official new world record.
As always with these things, this frequency was achieved on a single core, not all cores. The 13900K has eight performance and 16 efficiency cores. The efficiency cores were disabled during the overclocking experiment. Asus claims its Z790 Apex has achieved 14 world records thus far, seemingly justifying its exorbitant pricing.
Now Read: