NASA's Revamped Eyes on the Solar System Lets You Explore Space in Your Browser
This site may earn affiliate commissions from the links on this page. Terms of use.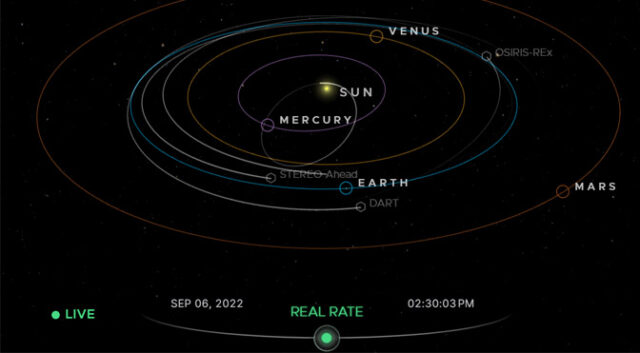 NASA released an impressive desktop app some years back called "NASA's Eyes Visualization," which allowed you to check out the solar system, along with all the spacecraft exploring it. But who installs programs anymore? It graduated to the web recently, and now it has an updated interface and tools. Simply head to the "Eyes on the Solar System" site on your device of choice, and start exploring.
The main interface of the new site is simply the orbits of the planets, color-coded with highlights to show you their current positions. The layout is accurate for the current time, but you can use either buttons or the slider at the bottom to speed up or reverse time. It goes as high or as low as three years per second. You have to figure this revamp was supposed to coincide with NASA's Artemis program, but that's taking a bit longer than expected to get off the ground.
In addition to the clickable overview of the solar system, there are several suggested "points of interest" on the side of the screen. These are all along the same lines as the Eyes on the Solar System engine, but some (like the Perseverance landing simulation) load on a separate page.
You can click on anything rendered in the interface to zoom in and center your view. An info panel will also appear to give you relevant information and links to content and exploration history on NASA's sites. Some planets also have unique rendering options. For example, clicking on Venus gives you the option of seeing it in its natural cloudy state or with radar surface mapping.
Clicking on space probes is also a treat — the site shows you the spacecraft's live location and mission milestones, plus there's a tool to compare the size of various probes. This is going to feel weirdly familiar if you've ever played Kerbal Space Program.
Eyes on the Solar System seems pretty platform agnostic. If you load the site on your phone, it will work just as well, if not better. The touch interface is handy for scrolling around and rotating around your target, and the points of interest collapse down out of the way to give you more room to explore in the palm of your hand.
The updated Eyes tool, spotted by HotHardware, could be a cool way to keep tabs on Artemis 1 when it launches. It was already supposed to be in space, en route to the moon. However, a series of last-minute glitches have caused yet another delay. NASA's new mega-rocket will have another chance to make its appearance in Eyes later this year.
Now read: