New Google Pixel 7 Leak Leaves Little to the Imagination
This site may earn affiliate commissions from the links on this page. Terms of use.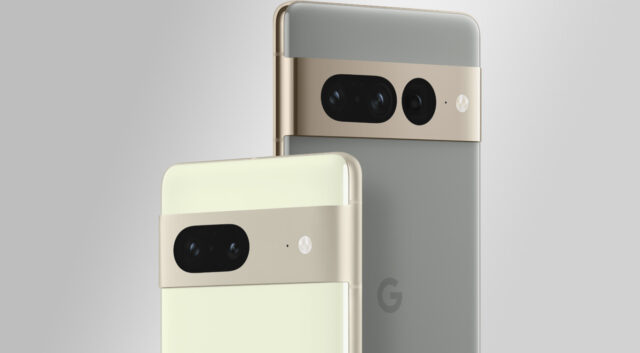 Google's fall hardware event is just a few days away, but everything the company says about the Pixel 7 will be old news. After teasing the device at Google I/O in May 2022, details about the new Pixel phones came out in dribs and drabs over the summer, but a newly leaked spec sheet lays it all out in the open. If Google has any surprises in store, they'll have to be on the software side.
The leak comes by way of an info sheet from a Taiwanese carrier, which was posted to a Google News Telegram channel. It includes specs as well as some key features for both the Pixel 7 and Pixel 7 Pro. We already know the new phones carry on the design aesthetic of the 2021 models, so it comes as no surprise the screens are about the same size. The Pixel 7 Pro has a 6.8-inch OLED panel at 1440p and 120Hz. The Pixel 7 is 6.3 inches at 1080p and 90Hz. This phone's OLED is also not based on LTPO technology, meaning it can't adjust the refresh rate as dynamically as the Pixel 7 Pro, but the larger phone is going to need all the help it can get.
Pixel phones have always prioritized the camera, and the Pixel 7 and 7 Pro are no different. They both still have a 50MP primary sensor, as well as a 12MP ultrawide. The Pixel 7 Pro will have a new 5x telephoto lens, up from 3x in last year's model. It will also support "macro focus," which probably means autofocus support on the ultrawide for sharper up-close photos without adding a dedicated sensor. Both phones also have a 10.8MP selfie camera, up from 8MP in the Pixel 6. The document also makes mention of a new Movie Motion Blur camera feature.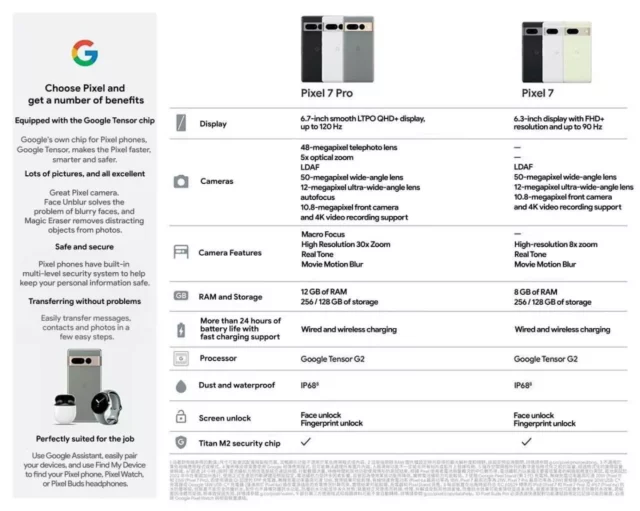 The leak also confirms these devices will have the Tensor G2 chipset, which will be Google's second custom system-on-a-chip (SoC). We don't know yet what that chip will add compared to last year's Tensor, but Google will undoubtedly focus on machine learning applications. The Pixel 7 Pro will have 12GB of RAM, and the Pixel 7 will have 8GB. Both will have a maximum of 256GB of storage. There's no microSD slot as with most modern smartphones, so you'll have to get the more expensive model if the base 128GB isn't enough.
The Pixel 7 and Pixel 7 Pro will be fully unveiled on Oct. 6. We also expect to see the Pixel Watch and some new Nest hardware at that same event. Previously leaked pricing pegs the Pixels at $600 for the Pixel 7 and $900 for the Pixel 7 Pro, so it's unchanged compared with their predecessors. The phones are expected to ship later this month.
Now read: