Razer and Verizon Announce 5G Handheld Gaming Device
This site may earn affiliate commissions from the links on this page. Terms of use.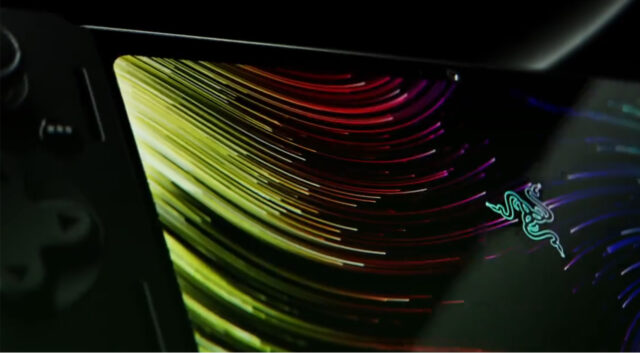 Hot on the heels of Logitech's G Cloud handheld announcement, there's a new cloud gaming portable on the horizon. Verizon, Razer, and Qualcomm have teamed up to launch the Razer Edge 5G, an Android-powered gaming device that will let you play your favorite phone games, as well as console and PC games streamed from the cloud. We don't have most of the details, but as the name implies, this device will have a 5G connection for cloud gaming on the go.
The Edge 5G will run on the Qualcomm Snapdragon G3x Gen 1, the current top-of-the-line gaming platform from Qualcomm. It previously only appeared in a dev kit produced in partnership with Razer. The brief teaser video of the Edge 5G doesn't reveal many details, but we can assume it shares some chipset-level capabilities with the dev kit, like USB-C video output, high-refresh display support, and Snapdragon Sound-enabled speakers. The companies have not announced if the device will be optimized for any particular cloud gaming platform, but we can assume Stadia won't be on the list.
The only parts of the Edge 5G shown in the teaser are the d-pad, a thumbstick, and a couple of miscellaneous buttons. It spends a strangely long time focused on one of the triggers. You can also see the screen for just a moment — it's widescreen with rounded corners. The profile of the device makes it look much bulkier than the Logitech G Cloud or Nintendo Switch, as well.
BREAKING: @Verizon, @Razer and @Qualcomm are teaming up on the world's first 5G mobile gaming handheld—Razer Edge 5G! It will allow you to play your favorite games regardless of whether you are gaming in the cloud, on an app or streaming from your console. https://t.co/TYPw5xFyeF pic.twitter.com/F9Vg3CfABl

— George Koroneos 🗿🍹 (@GLKCreative) September 28, 2022
Verizon says the new handheld will be the first 5G-enabled gaming handheld, which is true. There just hasn't been any demand for one until now… and maybe not even now. True, one of the issues cited with the Logitech G Cloud was the need for Wi-Fi to play cloud games, but adding mobile data to such a device is going to increase the cost and greatly impact battery life. In addition, you need a fast, and more importantly, reliable internet connection to stream games from the cloud. Current 5G networks are still struggling to live up to the claims carriers make every time they add coverage or band support.
Razer will unveil the Edge 5G in full on Oct. 15 at Razercon. Verizon's involvement means this device will probably be limited to operating on the carrier's 5G network. While Verizon is partially limited in how it locks 5G devices, Razer could simply decline to get it certified on other 5G networks. That means buyers would have to pay whatever Verizon asks if they want mobile data on the handheld, and if not, there's little reason to buy this over another portable game machine.
Now read: