Scientists Use Powerful New Climate Model to Recreate Iconic 'Blue Marble' Photograph
This site may earn affiliate commissions from the links on this page. Terms of use.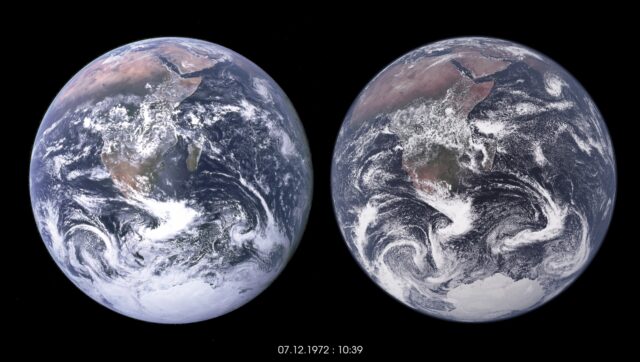 This month marks 50 years since humanity last ventured beyond low-Earth orbit. While NASA is currently working to send people back to the moon, Apollo 17 in 1972 is the most recent crewed mission to leave Earth behind. The mission is notable for another reason: the famous "Blue Marble" photograph of Earth fully illuminated by the sun. This stunning image supercharged the nascent environmental movement in the early 1970s and has been reproduced frequently over the decades. Now, it's being reproduced in a new way — scientists from the Max Planck Institute for Meteorology attempted to recreate the Blue Marble shot from scratch using a new climate model. The results, as you can see above, are impressive. The simulation on the right is a dead ringer for the authentic photo on the left.
You could argue that the foundation of the Max Planck Institute for Meteorology (MPI-M) was part of the environmental movement spurred on by the Blue Marble. MPI-M was set up under the direction of Prof. Klaus Hasselmann in 1975, who would go on to win the 2021 Nobel Prize in Physics for MPI-M's work on anthropogenic climate change.
Work on the climate at MPI-M is still ongoing. In late 2022, the institute completed work on a model known as ICON that can simulate fully coupled climate systems at kilometer scale. Climate scientists believe that being able to resolve atmospheric processes at this level of detail is essential to understanding how global warming is reshaping the globe. With the 50-year anniversary of the iconic Blue Marble photo, the MPI-M team decided to test the model by recreating the image using weather data from 1972.
[embedded content]
MPI-M partnered with Nvidia and the German Climate Computing Center to run the simulation, beginning with a spun-up ocean two days before the famous image was captured. The institute describes it as a two-day forecast arriving fifty years too late. By simulating the physics of surface winds, water currents, and cloud fields, the team ended up with something that very closely matches the real photograph.
The image above was generated with the Nvidia Omniverse platform with internal RTX ray tracing. And it's not just a photograph. The simulation is a fully formed world, featuring details not recorded by the Apollo crew's camera. The simulation allowed the team to go beyond the superficial, studying the waves of warm water emanating from the African coast and subsurface eddies that rise upward as the sun heats the ocean. The team expressed pride that ICON was able to so closely mirror the Blue Marble, particularly given the rudimentary weather data from 50 years ago in the southern hemisphere. This work shows that ICON could become a key tool in understanding Earth's changing climate.
Now read: