Someone Tried to Sell an Unreleased Google Pixel Tablet on Facebook
This site may earn affiliate commissions from the links on this page. Terms of use.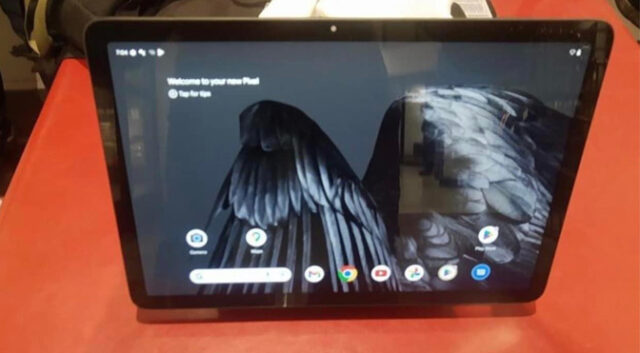 Google released its first Android tablet, the Nexus 7, way back in 2012. A few years later, Google lost interest, as it is wont to do, and proceeded to ignore large-screen Android for years. Google has announced its return to the tablet market with the upcoming Pixel Tablet, but you might not have to wait until 2023 to get your hands on the device, which has just shown up for sale early on Facebook Marketplace.
Google pre-announced the Pixel Tablet at the I/O conference last year, promising its new Android slate would launch in 2023. The Pixel Tablet will include new optimizations for large-screen Android apps, making it easier to run two apps side-by-side. As we rocket toward the end of the year, it seems plausible that Google has prototype tablets floating around, and it would appear one of them ended up in the hands of someone who should not have had it.
The listing on Facebook Marketplace lists the device as a pre-release 2023 tablet, so the owner knows exactly what they've got. The seller was looking for $400 for the tablet, charger, and speaker docking stand. It's unclear if that will be an add-on accessory — allowing you to turn the Pixel Tablet into an Assistant smart display — when the tablet officially launches.
🤨 pic.twitter.com/2T7xQdpgTU

— ShrimpApplePro 🍤 (@VNchocoTaco) December 19, 2022
Based on the presence of a tutorial link in the At A Glance widget, it appears the tablet has just been set up. So, we may be looking at the default home screen layout, featuring a search widget at the bottom next to the app icons (Pixel phones have the search bar above the favorites). There are no third-party apps visible — just Gmail, Maps, Chrome, and the other standard Google offerings. The settings screens show 256GB of storage in the tablet and a battery rating of 17 hours remaining at 70%. Although, that might not be accurate, given the device was just set up.
Odds are anyone who bought this device would end up with a brick after Google realized one of its test units went missing. The real Pixel Tablet will launch at some point in 2023 — Google hasn't been specific about that, nor has it confirmed pricing. The $400 price in the Facebook listing is probably less than Google will ask for the tablet and stand, regardless of whether they're bundled.
Now read: