The Best Fitness Mirrors To Bring Home The Exercise Studio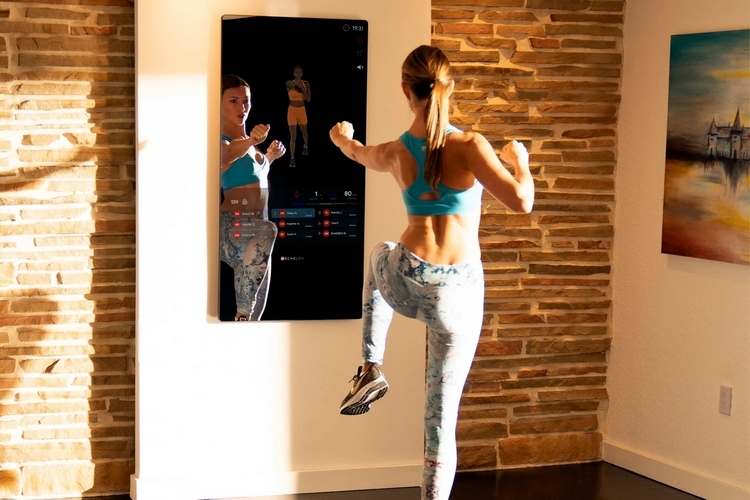 We'll admit, we didn't know what to make of the Mirror when it first came out five years ago. It was a wall mirror with an integrated LCD, camera, and speakers that you can use to follow virtual classes and on-demand workouts. However, a short two years after it came out and the company had tens of thousands of subscribers, which grew even bigger with people stuck in their homes during the ensuing pandemic. Fast forward to now and the fitness mirror has become an entire category on its own, with numerous outfits trying to grab a piece of the growing market for the popular home workout equipment.
The original fitness mirror came at the height of the Peloton craze, where every other fitness startup was trying to recreate the success of the connected home exercise bike. These outfits, basically, took familiar training equipment, connected it to the internet, and added a large display where people can watch video workouts that they can follow. The fitness mirror, on the other hand, ditched the "equipment" part of the equation, opting to focus on streaming aerobic and resistance workouts that require minimal equipment you can get at the local sporting goods store. Instead, they simply provided a way to conveniently watch the workouts while allowing users to see themselves following along. Turns out, that's quite the winning formula.
Today's crop of fitness mirrors do, pretty much, the same thing as the original. They let you stream workout videos, while being able to see yourself on the same screen, making it easy to monitor your form and compare it to the onscreen instruction. Some are designed for wall-mounting, while others come in a freestanding design. Most just serve as mirrors like the original when not in use, while others come with integrated cabinets for storing your fitness gear behind the reflective surface.
These are the best fitness mirrors to bring an exercise studio to your home without the home gym aesthetic.
NordicTrack Vault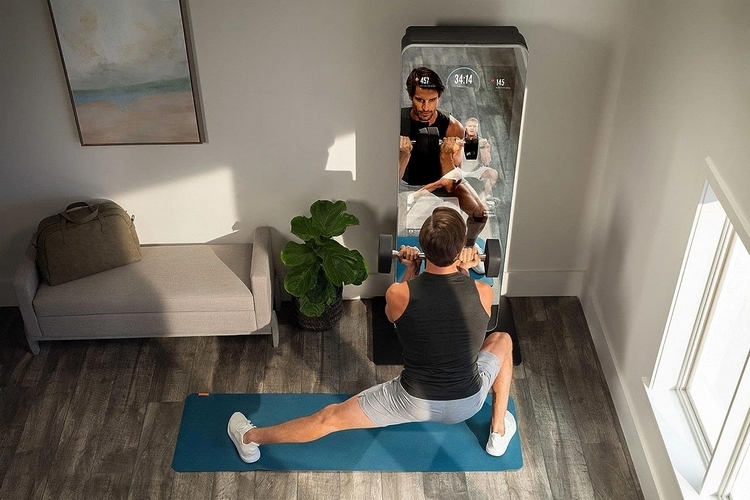 Instead of looking like a simple mirror, this reflective trainer actually comes with a shallow cabinet in the back, so it's chunkier than your typical fitness mirror. That's a good thing because the cabinet gives you a handy place to store your exercise gear, whether it be dumbbells, resistance bands, kettlebells, or anything else, while a sleek sliding panel allows you to open the cabinet while keeping the mirror facing you at all times (so you can keep the cabinet open while exercises for easy access to your gear). It also comes with a wide stand, so you can set it down anywhere in the house without worrying about it falling over.
The fitness mirror incorporates a 32-inch 1080p touchscreen display, so you can choose workouts directly from the device, while Bluetooth connectivity allows you to pair it with third-party heart rate monitors to get advanced tracking of your performance stats. It runs iFit, which offers both live and on-demand workouts for a wide variety of exercises, both with or without equipment. If you're planning to buy other connected exercises devices (e.g. exercise bikes, rowing machines), by the way, you should be able to use the same iFit membership if the device runs on that system, too (and many of them do). iFit, by the way, is free for 30 days and monthly cost starts at $15 for an individual membership.
This is the most affordable fitness mirror we've seen so far and it's an incredible value. By the way, they also offer a Vault Complete system, which throws in a full set of workout gear inside the cabinet, including six pairs of dumbbels, two kettlebells, a yoga mat, a yoga block, and resistance bands all for an additional $300.
Buy Now – $699
Lululemon Studio Mirror Plus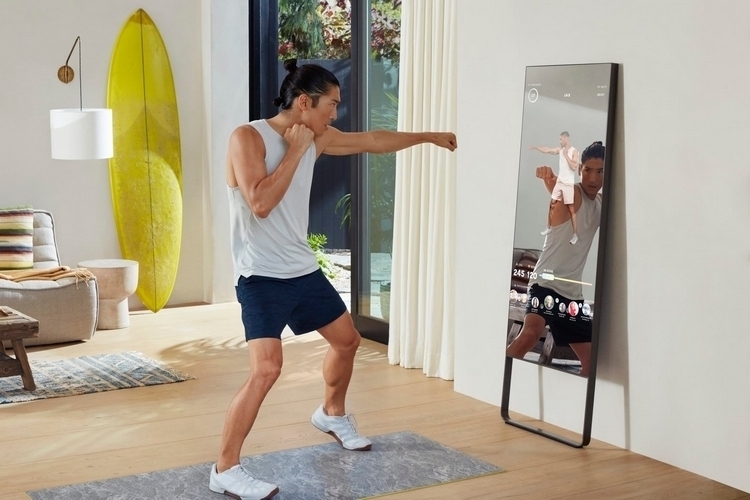 A while back, athleisure stalwarts Lululemon bought the Mirror, which is why it's now sold under their brand. Fortunately, they didn't change much about what made the original fitness mirror so great. The current version comes with a stand, allowing you to either push it up against the wall for easy installation or mount it up via the wall mount in the back. There's no touchscreen interface, so you'll need to bring up the app on your phone to find workouts, with options for strength training, yoga, dance cardio, HIIT, chair exercises, and a lot more. According to the outfit, they have over 10,000 workouts from eight different fitness studios, you won't be running out of new workouts to try. Classes, by the way, last anywhere from five to 60 minutes, so you can opt for quick ones if you're pressed for time or longer ones when you're in the mood.
They also made it very affordable, allowing you to get the fitness mirror on its own for $995, although you'll also want to order the $50 heart rate monitor, since it's arguably the system's most important method of measuring your performance. They also offer fitness bands for even more detailed tracking. In case you want all those, just order the Mirror Plus pack, which also gets you the fitness mirror and a few basic workout gear. The device gets a 43-inch 1080p display with a 178-degree viewing angle, four 15W stereo speakers, and a 5MP front-facing webcam. Do note, you'll need to sign up for a separate membership to Lululemon Studio to actually get access to the workouts and that costs $39 per month with a one-year minimum commitment.
Buy Now – $995
ProForm Vue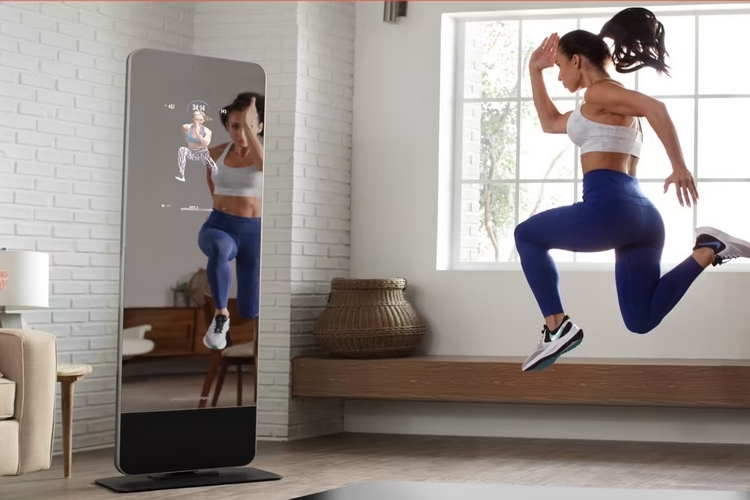 This freestanding fitness mirror has a wide base that allows you to place it even in the middle of the room, making it very easy to set up. Behind the mirror is actually a streamlined rack that houses an empty barbell, two empty dumbbells, and four 2.5-pound weight plates. We do wish they added extra racks for weight plates, too, but sadly there isn't any, although the mirror can pivot either left or right, so you can face the mirror at a more comfortable angle as well as access the rack easily.
The floor-length fitness mirror comes with a 22-inch embedded touchscreen, so you can interact with the system directly on the device, as well as two three-inch speakers in front, so you can listen to the trainer's detailed instructions. Alternatively, you can pair it with wireless headphones if you'd rather keep the noise down and also pair it with third-party heart rate monitors to let the system keep track of your heart rate in real-time for better performance assessments. It runs the same iFit system used by NordicTrack, so you get the same wide range of workout choices and reasonably affordable monthly rate.
Buy Now – $999
Echelon Reflect 50-Inch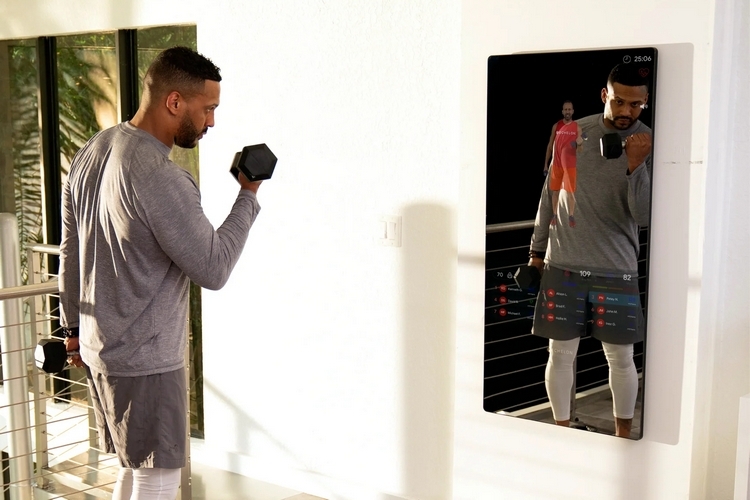 Echelon makes two fitness mirrors: a smaller 40-inch and a bigger 50-inch model. We recommend the bigger one as the extra 10 inches of height does make a difference when keeping an eye on your workouts (the more reflective surfaces, the better). It doesn't come with a stand, so you'll have to mount it up a wall during installation, which could make it a bit tricky for renters who aren't allowed to drill.
A 32-inch touchscreen is embedded in the mirror, so you can interact with the system directly from the device, while two 8W speakers and an 8MP webcam are also onboard. It runs the outfit's own fitness system which gives you access to live daily classes and over 2,000 on-demand classes suited for the fitness mirror. Do note, the daily classes, which run over 40 in total, run the gamut, from cycling to running to rowing and more, so you probably won't have the equipment for many of them, but some of them might still be useful, depending on the gear you have at home. Plus, it's more affordable than other fitness subscriptions, as their plan starts at just $11.99 a month.
Buy Now – $1,299.99
Forme Studio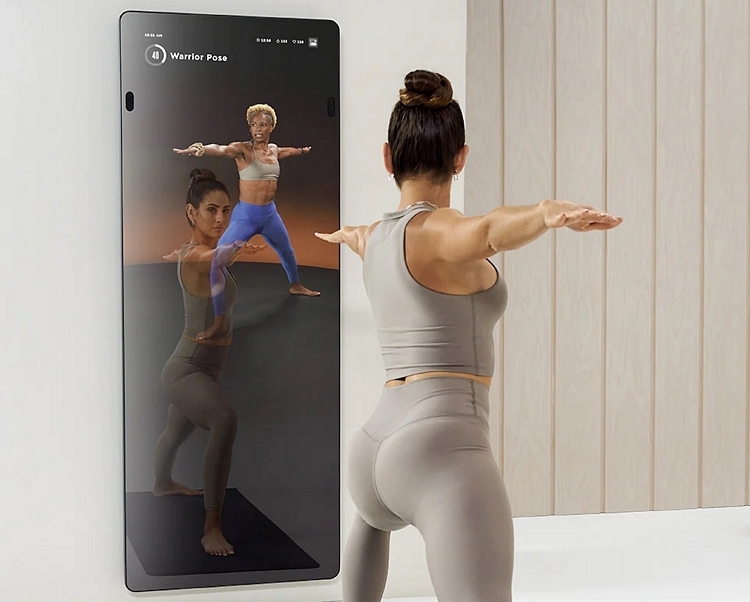 Similar to the Echelon above, Forme's fitness mirror is meant to mount up on walls, although its reflective surface is much larger with its 68-inch height, so you can see yourself from head to toe. It incorporates some premium hardware into the mirror, including a 43-inch 4K UHD touchscreen, a pair of front-facing 12MP cameras, a "high-end sound system," and a mic, so you can actually talk to people on the other side. A heart rate monitor is included with the set, allowing the system to track your performance during exercises, along with a yoga mat and a few other accessories.
In case you're wondering about the mic, it's there because this fitness mirror's monthly subscription comes with live one-on-one weekly sessions with a personal trainer. That's right, you can have a pro assess your progress and customize your workout plan according to your needs, with the mic allowing you to have discussions with your coach. Aside from the personal training, the plan also included access to thousands of on-demand classes, including cardio, HIIT, pilates, yoga, strength training, endurance, and more. The catch is, they have the most expensive subscription plan in the list, which costs a whopping $149 a month, so the recurring cost is definitely the most important thing to consider.
Buy Now – $2,495