The Best Flashlights For Your Daily Lighting Needs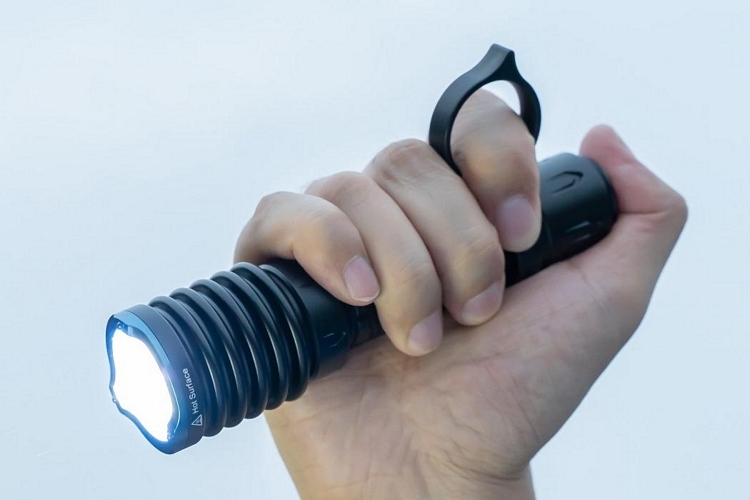 There was a time when you needed a big flashlight if you wanted a lot of light. That's no longer the case, with modern LED flashlights offering impressive brightness and throw even at smaller form factors. Gone are the days when good torches were around the size of a miniature baseball bat, with pocket flashlights now delivering enough brightness to get the job done for a lot of lighting tasks.
LED technology has allowed modern flashlights to be smaller than ever. Not just that, but they're brighter, tougher, and much more battery-efficient than their predecessors. However, the best flashlights still do come in various makes and flavors. Some are smaller, so they can fit inside pockets and clip onto belts. Others are bigger, so they're easy to get in a secure grip and even easier to find when fumbling at a drawer in the dark. Some keep things simple, offering a few basic settings to handle specific use-cases and nothing more. Others offer every imaginable option, allowing you to use the flashlight in highly-tailored ways.
Some of the best flashlights prioritize brightness levels. Others sacrifice a bit to maximize battery life. Some are equipped with rechargeable batteries, while others prefer standard AA cells. Occasionally, you'll even find flashlights that offer both options to make them more versatile.
Whichever flashlight you end up getting, bear in mind that you're going to use it frequently. Sure, you might not think you will, but when you have a flashlight within easy reach, you'll find plenty of things that can benefit from a little added illumination. From lighting up dark trails and finding things around camp at night to locating that LEGO piece under the couch and searching for your keys in a dark parking lot, a flashlight is one of the handiest tools you can ever have at your disposal.
These are the best flashlights to add to your everyday tool kit.
MagLite ML50L LED Flashlight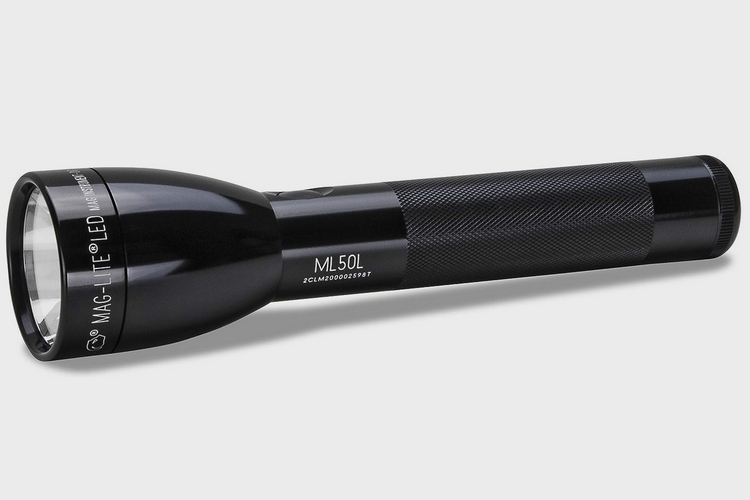 If you want a baton-style flashlight, might as well go with the brand that popularized it well before the turn of the century. This model takes on Maglite's classic form factor, ensuring it fits comfortably in hand while being large enough to easily locate when fumbling in the dark. It's rated at 490 lumens and delivers good brightness in real-world use, looking even brighter than some smaller flashlights boasting higher lumen ratings that we've tried, with a quarter turn of the head allowing you to switch between flood and spot beams in a jiffy. Five light functions are available (full power, 113-lumen low power, 23-lumen eco mode, strobe, and momentary), with a single button allowing you to switch between each of the different settings quickly. Features include a shock-resistant anodized aluminum body, IPX4 water resistance, and a diamond knurl grip. It runs on two C-type cells.
Thrunite Archer 2A V3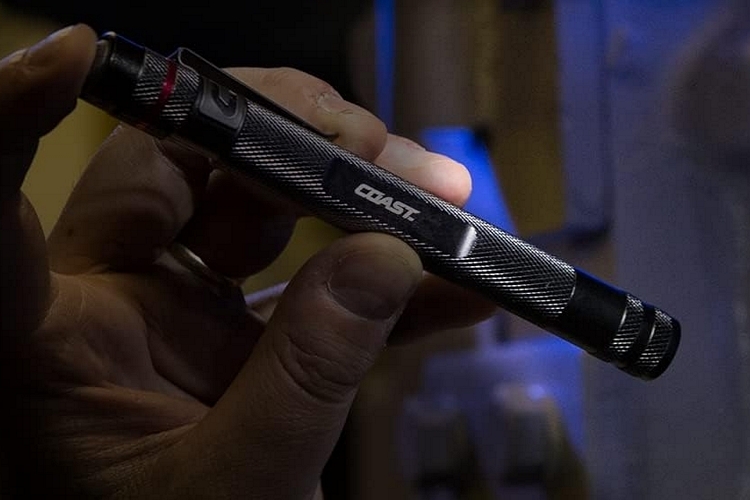 This LED flashlight runs on two AA batteries, so you can simply swap out fresh ones each time it drains out, making it very convenient for taking out on the road. It uses a CREE XP-L2 LED with a 500-lumen rating and a beam throw of over 300 feet, which should be powerful enough for most lighting situations you're likely to encounter. Do note, it automatically switches to 280 lumens at the high setting to conserve battery after a bit, so you won't really get the full 500 lumens for extended periods, which, we guess, is a consequence of relying solely on two AAs for power. Even then, it only lasts a few short hours on high, so you'll probably want to keep that setting for those times when you actually require maximum brightness. A pair of control buttons on the body allow you to toggle through one of the five modes, namely low, medium, high, firefly, and strobe, while a rugged anodized aluminum build keeps it impact resistant to drops up to three feet and IPX8 waterproof.
Coast HP3R Penlight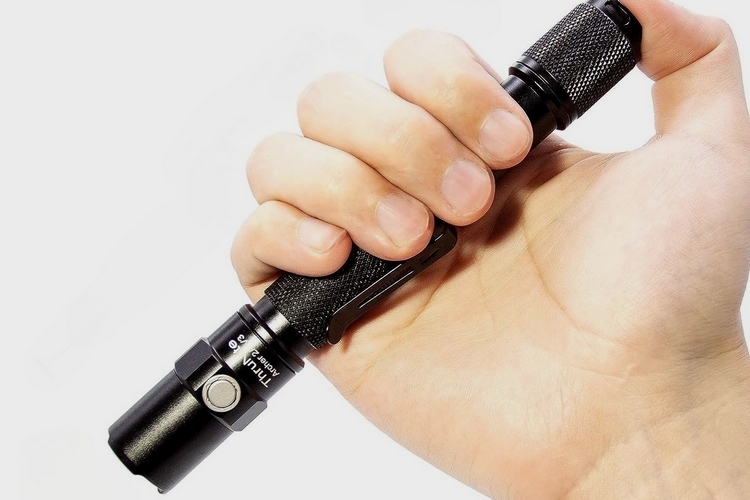 Penlights are extremely convenient for their portability, as their slim bodies make them suited for clipping onto the edge of most pockets. Problem is, that same size limits the area their light can cover, making them tough to use in outdoor settings where you need to spread the light out. This penlight suffers from the same issue, essentially limiting the coverage area for its 385-lumen beam. Where it shines, though, is those instances where you want focused light with a long throw, as its spot beam is rated to reach distances of up to 360 feet, so this can be extremely useful in the right situation. It runs on two AAA batteries, making it easy to plug in fresh batteries in a pinch, although it also comes with two rechargeable AAA cells if you're not a fan of buying disposable units. Features include two beam options (spot and flood), removable bite cap, pocket clip, and two light modes (high and low, with the latter producing a feint 28 lumens).
Olight Baton 3 Pro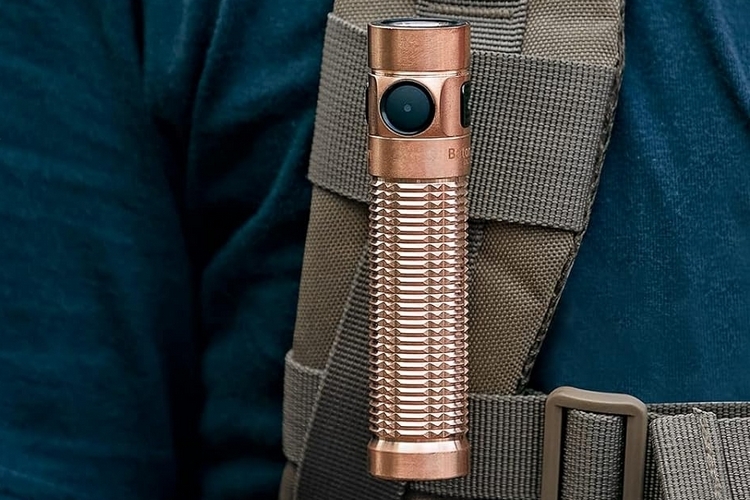 One of our favorite EDC flashlights, this torch measures just four inches long, making it compact enough to slip inside your pockets. Despite the compact size, it's extremely powerful, boasting a 1,500-lumen rating with a maximum throw of over 570 feet. Yep, all that power on a tiny flashlight. Of course, you probably won't really use that full 1,500 lumens, since it can only run for around two minutes on that ridiculously bright setting, immediately switching to a still bright 600 lumens after that. Yeah… you'll want to use one of the lower settings if you want this rig's smaller battery to last you a bit. It has a long two way clip, giving you options in how to secure it along the edge of pockets and straps, with six light settings, including a low light mode of just 0.5 lumens. In the highest setting, it can run for around three hours between charges.
Nitecore EDC27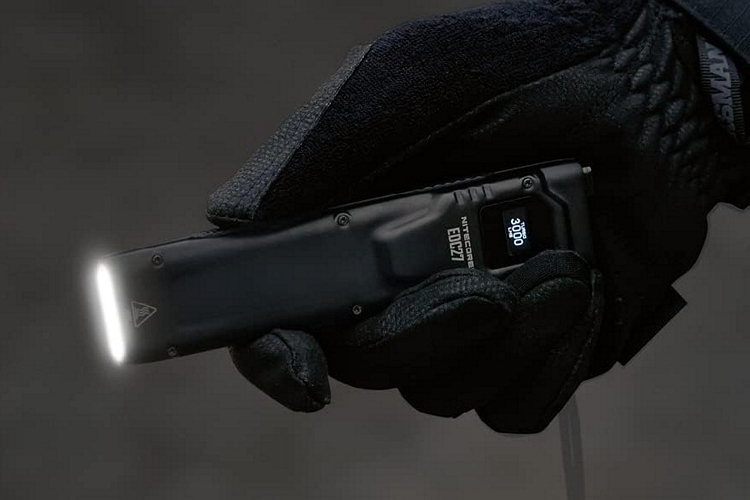 Many people don't carry flashlights because of their cylindrical shapes – it just doesn't feel great having a bulging tube sitting in your pocket. That's why we love this EDC flashlight from Nitecore, which comes in a flatter bar-shaped form factor that fits comfortably inside pockets. With the shape, it feels more like a utility knife than a flashlight, which really lends itself well to everyday carry. It's a powerful light, with a 3000-lumen rating and a 660-foot throw, although like many compact high-brightness flashlights, you'll want to use that turbo setting sparingly since this thing uses up too much power and gets incredibly hot in short order at full power. We love the two button control interface at the rear, which sets the buttons at two different sizes, so you can feel out the correct button without looking, as well as the six lighting modes, which include a 3,000-lumen strobe and a 15-lumen ultralow. At the mid setting (200 lumens), it can run for up to 3.75 hours between charges.
Ledlenser 500897 P5R Rechargeable Torch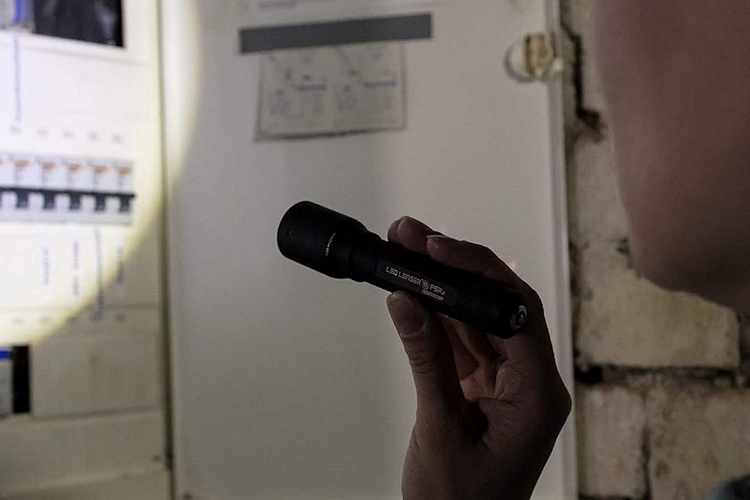 While this flashlight touts a modest brightness rating of 420 lumens, it delivers impressively bright light in real-world settings, outperforming some higher-lumen torches we've used in the past, especially when it comes to throw distance. It delivers both flood and spot beam patterns, either of which can be easily triggered using the same hand that's holding the flashlight, as well as three light modes, namely high, low, and blink. Claimed runtime is three hours at the high setting, but we've actually been able to get more than that in real-world use. Do note, it doesn't actually stay at 420 lumens the whole time – instead, it lowers the brightness slowly over time to save power. The change in brightness isn't as sudden as other flashlights in the list, by the way, where it will step down to half the brightness after two minutes. Instead, it's more gradual, so it gives you time to get used to the surroundings before lowering the brightness further and further. Features include an all-aluminum housing that's drop-tested at up to three feet, IPX4 water resistance, and a beam distance rating of over 700 feet (yes, that sounds ridiculous for a 420-lumen flashlight, but that's what they're claiming).
Nitecore P20iX Tactical Flashlight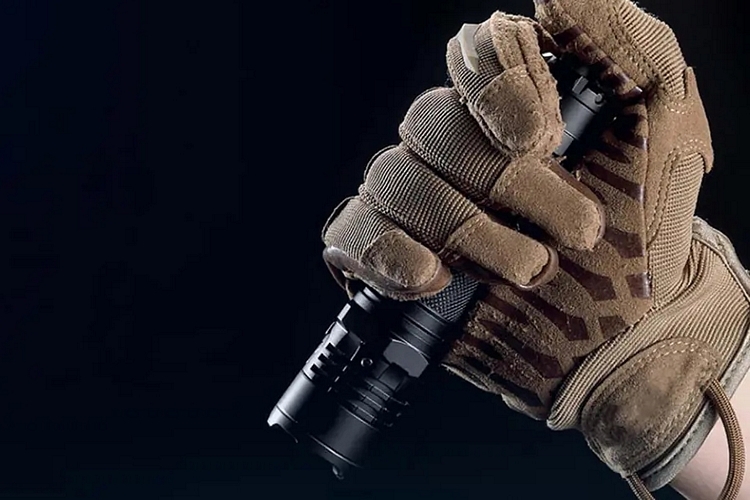 This tactical flashlight boasts a brightness rating of 4,000 lumens, which is absolutely wild for a 5.6-inch light. All that brightness comes courtesy of four CREE XP-L2 V6 LEDs, which also vows to throw that light at distances of up to 720 feet. It delivers the 4,000 lumens in Turbo mode, which, in all honesty, is way too bright. Unlike other flashlights that significantly lower brightness after a couple of minutes, this one stays close enough to that maximum brightness the whole time, although it does get uncomfortably hot and drains out in 30 minutes, so it's not exactly the most comfortable way to use the darn thing. This has the same dual-button interface as the EDC27 above, which makes it easy to adjust settings without glancing at the controls, while eight different light modes allow you get exactly the amount of light you need at any time.
Fenix PD36R Pro Rechargeable Flashlight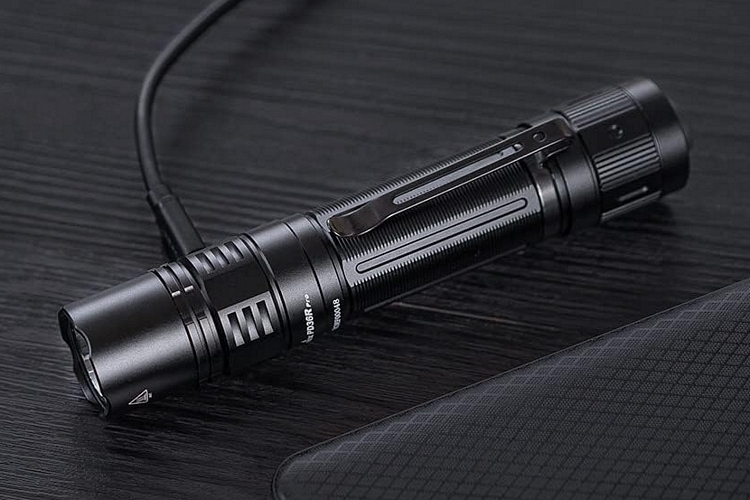 With a claimed brightness of 2,800 lumens and throw distance of over 1,200 feet, this "ultimate duty" flashlight delivers serious power in a compact size. Like many high-lumen flashlights, it gives you the maximum brightness for only a couple minutes before tapering down to a more reasonable brightness, so expect around 1,100 lumens or so for most of time you'll use it in the Turbo setting, which will allow it to run for around 3.5 hours before needing to recharge. If you need to make it last longer, there is the Low mode of 150 lumens and Eco mode of 30 lumens, which allows it to run for up to 19 hours and 42 hours, respectively. Features include dual-switches at the tail similar to the Nitecore flashlights above, a length of 5.7 inches, and a bi-directional clip.
Olight Warrior X 3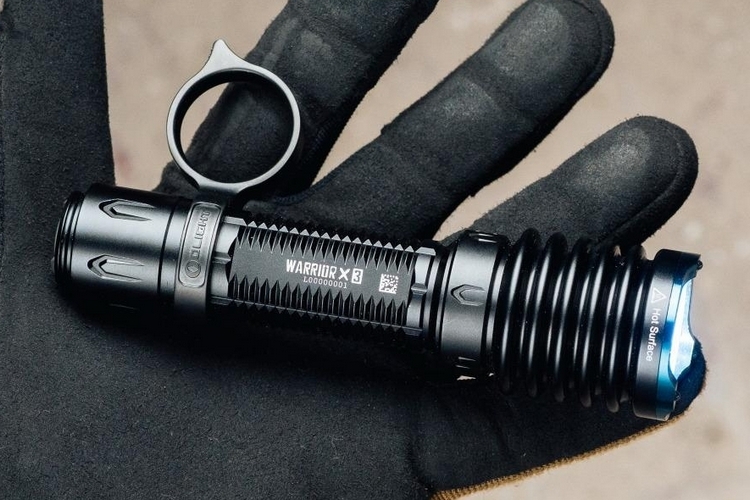 This compact flashlight measures just 5.8 inches, all while producing a whopping 2500-lumen focused beam of light that boasts a throw distance of over 1,800 feet. Yes, both those numbers sound ridiculous for such a compact tool. In high mode, it starts out at maximum brightness for 2.5 minutes, then drops down to 1,000 lumens for the next two hours before switching to 300 lumens until the battery runs out. That means, you can still get over two hours of lighting even at the highest setting, which makes this extremely handy for use when you're out and about. At the low setting of 300 lumens, it can deliver eight hours of power, which, honestly, makes it the likely setting you'll use this at most. It uses a similar two-button tail switch as some of the flashlights above, which makes it very easy to use, although it doesn't have a strobe mode (just high and low settings), which might be an issue for folks who like having that flashing light setting. Features include an all-aluminum shell, IPX8 waterproofing, and a charging time of around 5.5 hours.
Imalent MS18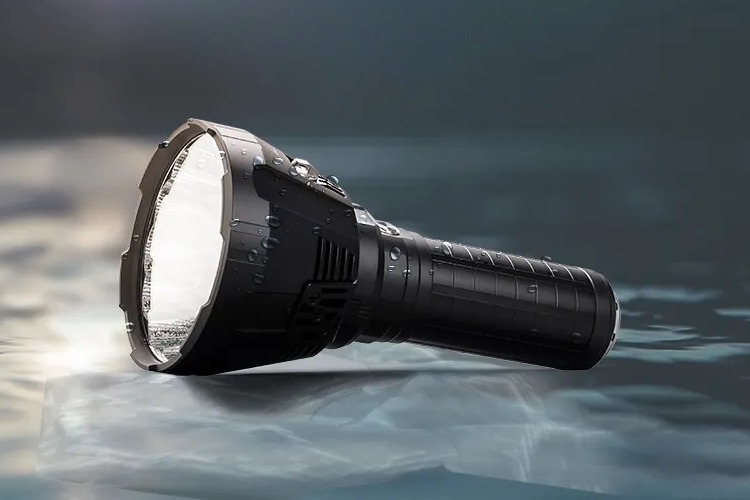 Want a flashlight with the highness brightest setting you can get? It might not be practical, but that's exactly what you get with this 100,000 lumen flashlight. That's right, this thing has a brightness rating on the six digits, allowing it to deliver a genuinely bright light that you won't want to look directly at, unless you want to go blind or something. That's why you don't want to shine it at people, by the way, not to mention the fact that the light it produces actually feels hot. It pairs those brightness levels with a throw distance rating of over 4,400 feet, which is just absolutely absurd. Seriously, it's scary how bright this thing is, almost making us feel like it will explode in our hands. It measures 10.4 inches long, with the head sporting a 5-inch diameter, so this is pretty big, but it does deliver more than its weight with all that lighting power.