AMD Announces 8, 12, and 16-Core V-Cache CPUs at CES 2023
This site may earn affiliate commissions from the links on this page. Terms of use.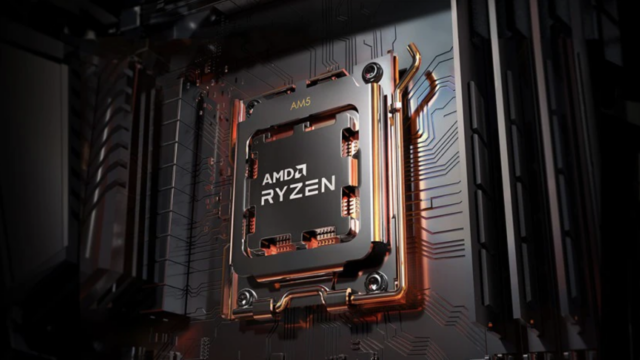 AMD CEO Dr. Lisa Su took the stage at CES last night and pulled the wraps off a lot of new hardware. As expected, she announced three new V-Cache CPUs to add to the Zen 4 lineup. Those include the Ryzen 7 7800X3D, Ryzen 9 7900X3D, and 7950X3D. Naturally, she dubbed them the fastest gaming CPUs in the world.
Instead of just offering a single 8-core CPU like the previous Ryzen 7 5800X3D, AMD is offering this across the top of its product stack. All three CPUs are 120W parts, which is a departure from the non-X3D CPUs. The existing 7900 and 7950 CPUs are 170W. However, the 5800X3D was a 105W part, so AMD has pumped up the power a tiny bit for the lower-end chip. The others got a reduction, which might be off-putting to some.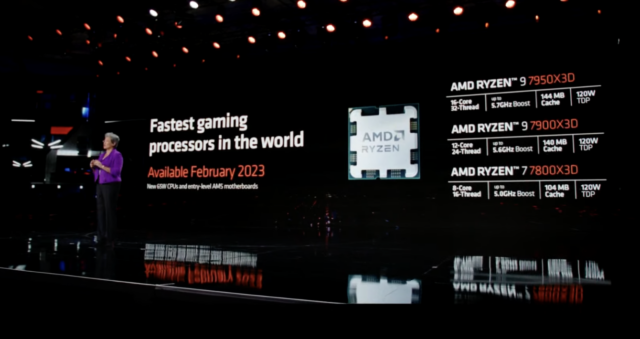 The flagship Ryzen 9 7950X3D gets the same maximum boost clock as the existing chip, topping out at 5.7GHz. That's a very high clock speed given how much cache it has, so it'll be interesting to see how hot it gets when gaming. It's a 16-core, 32-thread part, and Dr. Su showed a chart indicating it's faster than the Intel Core i9-13900K in various games. The performance advantage ranged from 9% in Watch Dogs: Legion to 24% in Horizon Zero Dawn. It sports 144MB of cache total. That's a combination of 128MB of L3 and 16MB of L2 for the 7950X3D. Its maximum temperature is 89C, so less than 95C of the existing chips.
The 12-core, 24-thread CPU is the Ryzen 9 7900X3D and it has 4MB less cache and slightly lower clock speeds. It has the same 128MB of L3 as its big brother, but 4MB less L2 for 140MB total. Its maximum boost clock is just 100MHz slower than the 7950 at 5.6GHz. It also has a maximum operating temperature of 89C, so we will probably see it hit that as soon as it's under full load.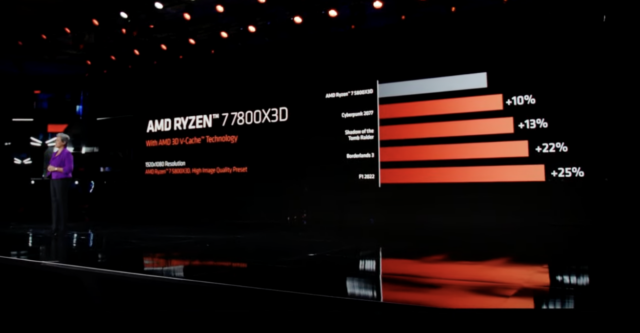 Finally, there's the Ryzen 7 7800X3D, which is a brand new SKU. It's the Zen 4 version of the 5800X3D with eight cores and 16 threads. It maxes out at 5GHz and has 104MB of cache, which includes 96MB of L3 and 8MB of L2. That's just 4MB more cache than the Zen 3 version, but its boost clock is 500MHz higher.
These chips will all be available in February, but sadly AMD didn't talk about pricing. Many people considered its original Zen 4 CPUs a bit too expensive, so it's probably still grappling with prices on these. The company has all the specs available on its website. It also disappointed gamers by not announcing any midrange RDNA3 GPUs. Maybe we'll see those launching before the show ends, but we're not holding our breath.
Now Read: