Intel Shows Off 6GHz CPU Without Any 'Tricks' Involved
This site may earn affiliate commissions from the links on this page. Terms of use.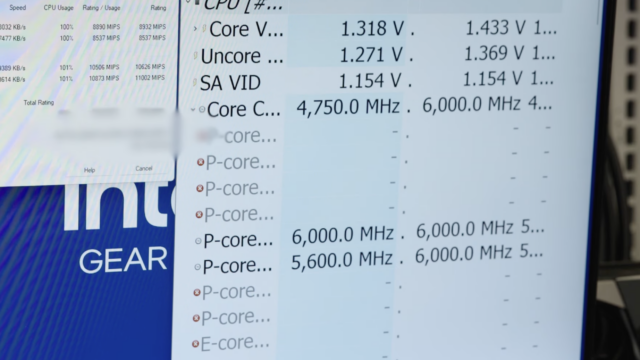 Intel has released a new marketing video showing off what is surely the Core i9-13900KS. The company hasn't officially announced the CPU yet, but it's been hinting at it for months now. The new video is a no-frills affair with two Intel employees chatting at a testing bench, and one acting surprised at hearing some of the information. The word "awesome" is used quite frequently. It seems to show the CPU is exactly what Intel claims: capable of hitting 6GHz "out of the box," with "no tricks" like a liquid chiller or fumbling around in the BIOS.
The host of the video is Alejandro Hoyos, a tech evangelist for Intel. He's joined by Jason Xie, who is a gaming technical marketing lead. Jason says here's in the video to "tease a brand new processor" that he can't name just yet. However, back in September before Raptor Lake even launched Intel was already talking about being the first company to hit 6GHz on a consumer CPU with off-the-shelf cooling. That makes the Core i9-13900KS a certainty, and the least surprising launch since the RTX 4070 Ti. The video shows Jason in the lab with an RVT setup, which he says is a reference and validation platform. The green motherboard looks non-specific and there's an off-the-shelf Corsair AIO cooling the CPU. He's running a 7-Zip benchmark with HWINFO open to see the core frequencies.
[embedded content]
In the video, two cores can be seen running at 5.985GHz, which is close enough to 6GHz for government work. However, you can see it only reaches this frequency for a few seconds before dropping down to 5.5GHz. Jason explains that it will hit that frequency out of the box, guaranteed, but it might not stay there very long. He says a lot of factors come into play here, including power budget, cooling performance, and how Windows allocates workloads to the CPU. To prove there's no trickery happening, Jason shows Intel's XTU overclocking software, which has all the options greyed out. This indicates it's at stock settings and nothing has been touched. He also says the RVT platform doesn't allow for overclocking anyway, so everything is locked down for testing purposes.
Because the first test was run on an Intel motherboard, which you can't buy, they also showed the same CPU running on an Asus Z790 board as well. On this platform, it actually hit 6,000MHz, but again, only for a brief second. On this run, only one core was visibly hitting 6GHz, though the software showed the second core was able to achieve it as well, albeit off-camera presumably.
Wrapping up, Jason said it's as simple as what it is shown in the video, in that it'll hit 6GHz for anyone who buys it. That doesn't mean it will stay there very long, though. It's unclear what kind of cooling will be required to maintain that frequency, though we can imagine it'll be hefty like it was with the previous Core i9-12900KS. That chip was able to hit 99C in testing even with a 360mm AIO attached to it.
It's exciting to finally cross the 6GHz threshold without having to fiddle with anything. That puts Intel squarely ahead of AMD in the clock speed race. However, AMD is about to launch its X3D lineup of CPUs targeted at gamers. If past is precedent, those will put up a pretty big fight for "fastest gaming CPU" honors like the 5800X3D did previously. Intel clearly wants to get out in front of AMD on that, so it seems likely we'll see the Core i9-13900KS arriving very soon. As always price and details are still TBD, but the launch seems imminent.
Now Read: