Microsoft PC Game Pass Now Predicts How Long a Game Is
This site may earn affiliate commissions from the links on this page. Terms of use.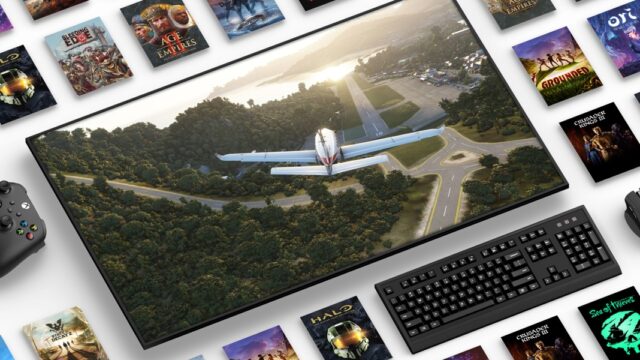 Microsoft's Game Pass service has made progress in signing up gamers, thanks in large part to its expansive catalog. With releases lagging, Microsoft may not enjoy the same success going forward. However, new features might keep subscribers around, and a cool one has just arrived on PC Game Pass. Microsoft has announced a partnership with HowLongToBeat, which will tell you how long a game is right on the PC Game Pass page.
For anyone unfamiliar with HowLongToBeat (part of Ziff Davis, which also publishes ExtremeTech), it has possibly one of the most descriptive names of any website on the internet. It tracks how long it takes to beat games based on user polling. This data is all available on the HowLongToBeat site, but now it's also included in Microsoft Game Pass listings.
Now, games in the Game Pass section of the Windows Xbox app will include the new playtime estimates. Just click on a game, and there it is right at the top of the "details" section. There are four numbers: main story, main + extras, completionist, and all styles. The completionist metric is the longest, of course, hitting over 100 or even 200 hours for some titles like Assassin's Creed Odyssey (140 hours), Fallout: New Vegas (147 hours), and The Elder Scrolls V: Skyrim (211 hours). The number you probably want to look at is "All styles," which includes all available data points for an adjusted average playtime.
The Game Pass listing only shows these four numbers, but the HowLongToBeat website has a lot more data available. Luckily, the Xbox app includes a link to the site, allowing you to dig into the data yourself. The updated Xbox app also launches 15 percent faster now, says Microsoft.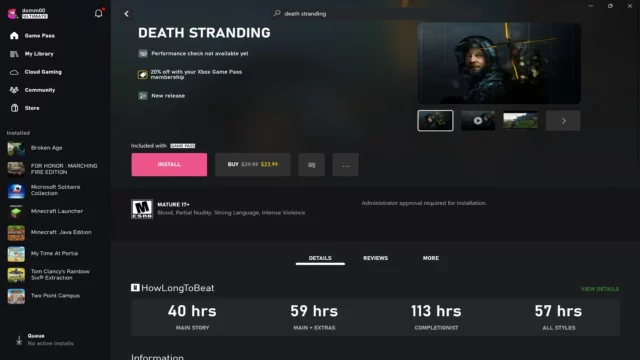 This is useful information to have when beginning any new game, but it's especially important for Game Pass. This service takes an "all you can play" approach to gaming. With both downloadable and cloud streaming content, one monthly fee can get you a lot of game time. However, some titles will come and go from Game Pass. You don't want to start a game that takes a hundred hours to beat when it's leaving the service soon. HowLongToBeat can help there. This feature should be live for everyone in the Xbox Windows app. Also, if you're not a Game Pass subscriber, HowLongToBeat is still accessible on the internet.
Now read: