Intel Confirms New Details for Arc GPUs, Says It Will Launch 'Very Soon'
This site may earn affiliate commissions from the links on this page. Terms of use.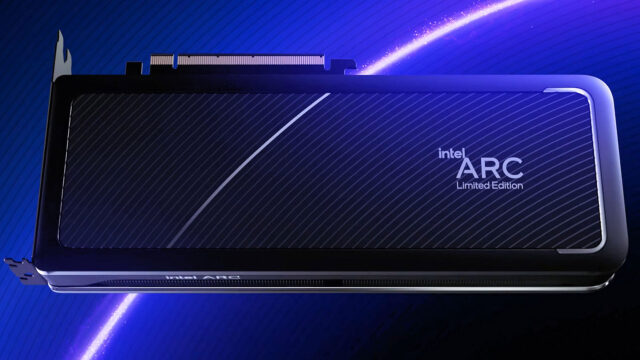 The Intel PR team is still making the rounds with popular YouTubers, and recent interviews shed some light on the company's launch plans for its Arc discrete GPUs. The PR duo of Tom Peterson and Ryan Shrout confirmed new details in recent appearances, and stated Intel's GPUs will launch "very soon."
The pair recently gave interviews to both Digital Foundry and PC Games Hardware to discuss Arc graphics. They have been doing this for the past month or so to help inform gamers about what to expect from Arc when it launches. They confirmed the US launch will involve two high-end SKUs: the A770 and A750. As expected, the A770 will be offered in both 8GB and 16GB versions, with a TDP target of 225W. The flagship A770 will offer performance slightly above the RTX 3060, but not quite RTX 3060 Ti levels, according to a transcript from Videocardz. It will be faster than the Radeon RX 6600 XT though. The A770 is likely to be priced around $349, with the A750 probably close to $279. The goal, it seems, is to beat AMD and Nvidia on price-to-performance. Its GPUs will likely be very close in outright FPS in certain games while costing slightly less. On top of that Intel will provide superscaling (XeSS), ray tracing, and AV1 encoding at a reasonable price. Now, whether its software stack will be comparable is up for debate.
The spokesmen also confirmed the importance of using resizable BAR. Whereas it's considered optional for AMD and Nvidia GPUs, that is not the case here. Intel says if you don't have that option on your motherboard, don't buy an Intel GPU. The reps say Arc is optimized for large file transactions, which resizable BAR enables. Without it, your GPU will be stuck performing a lot of smaller file transfers. This supposedly reduces performance by up to 40 percent, so it's quite a hindrance. This shouldn't be an issue for most people, as it's supported on the majority of motherboards made in the past few years. If you have a really old system, do your research before pulling the trigger. Intel says this is just how it is for Alchemist, but it's working to change that on future architectures such as Battlemage.
As far as the launch goes, Intel is going to find itself mired in a flurry of hardware news if it doesn't launch soon. Nvidia is rumored to announce its RTX 40-series at GTC on Sept. 19. AMD's Zen 4 CPUs will also go on sale on Sept. 27. Intel says its GPUs will be available on its website at launch, but it's not clear which partners it will have alongside it. Peterson did say there will be partners with custom boards at launch though. It was previously reported that Intel was having a tough time finding launch partners for Arc, so it'll be interesting to see which companies are onboard. The Arc GPUs also might have limited availability at launch. However, given the currently plunging prices of GPUs, it seems unlikely people will wait very long to find an Arc GPU when they can pick up a Radeon or GeForce card on the cheap.
We're cautiously optimistic about the Arc launch. It's been years in the making and Intel has confirmed it's in it for the long haul. However, it remains to be seen how Intel's value proposition will hold up in the face of next-gen GPUs from AMD and Nvidia. There's also the lingering question of the stability of its drivers. That will be a make-or-break part of its launch, as that seems like Intel's Achilles heel right now. On a personal note, we're just as tired as you probably are of the "it's coming soon" announcements from Intel. In that light, the next post you see about this topic will be "it's launching." You have our word on that.
Now Read: