MSI Afterburner Developer Calls Software 'Probably Dead,' MSI Says Not So Fast
This site may earn affiliate commissions from the links on this page. Terms of use.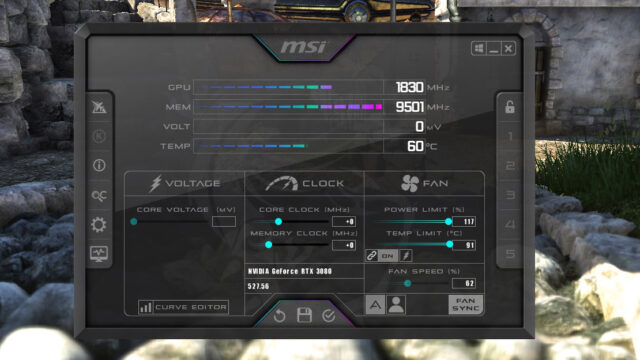 Gamers tend to fall into certain camps when it comes to supporting brands, platforms, and smaller topics like RGB lighting. However, one thing has universal acknowledgment across brand and platform lines: MSI's Afterburner is the best software for overclocking. It works on any GPU and can be used for myriad scenarios, from overclocking to undervolting and system monitoring. Sadly, now the software's future might be in doubt thanks to a surprising culprit; the war in Ukraine.
The sole developer behind Afterburner is a Russian citizen, and sanctions have apparently made it impossible for MSI to pay him. As a result, he says he will have to find something else to work on soon if he can't pay his bills. After news broke, MSI did damage control, saying it's trying to resolve the situation ASAP.
News of his plight came to light in the Guru3D forums via Techpowerup. His name is Alexey Nicolaychuk, and he goes by the name Unwinder online. In response to a post asking why the software wasn't detecting a GPU's voltage, he replied that there's nothing he can do about it because the "MSI afterburner project is probably dead." This news was unsurprisingly a big shock, not just to forum members, but to the entire PC gaming industry when word got out. When asked nicely to explain why, he simply wrote, "War and politics are the reasons."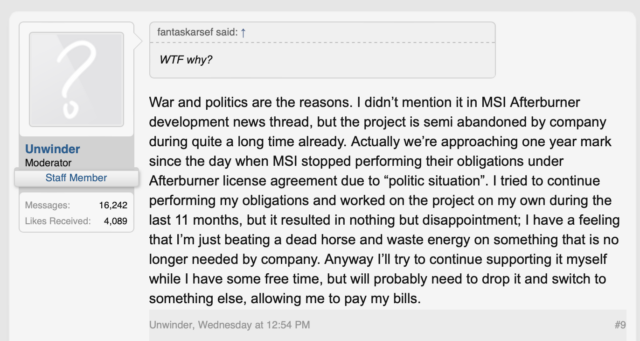 In his post, Unwinder said he hasn't been paid in almost a year but has continued working on it regardless. It seems he figured at some point MSI would be able to send payment, but he's given up hope as the war shows no signs of ending any time soon. He also didn't blame MSI for the situation, either. In a subsequent post in the thread he wrote, "But it is not their fault at all. They'd love to keep the project alive, but they cannot and will not cancel or bypass sanctions and make SWIFT magically work here."
Though he says he will continue to work on it by himself for a bit, he can see the writing on the wall. Unless MSI can pay him at some point, it will no longer get any more support in the future. He did say that RTSS, which stands for Riva Tuner Statistics Server, will continue to get new features as it's separate from Afterburner. He also said he still enjoys adding features to it so it's a fun hobby for him.
MSI has confirmed the war in Ukraine is to blame for this situation. In a statement to PC Gamer, it wrote, "payments had been put on hold due to the RU/UA war and the economic regulations that entailed." Despite this setback, MSI says it's still committed to the project and is working on a solution. "We fully intend to continue with MSI Afterburner," it told PC Gamer. "MSI have been working on a solution and expect it to be resolved soon."
That sounds great, and we believe it to be a genuine sentiment, but this seems like an intractable situation. We don't know what it's like to be in Russia and trying to receive payment from a third party, but it is obviously quite difficult with the sanctions in place. With that situation not expected to be resolved any time soon, all we can do is keep our fingers crossed the two parties will figure out a solution.
Now Read: