Nvidia Unveils RTX 4090 Ray Tracing Benchmarks
This site may earn affiliate commissions from the links on this page. Terms of use.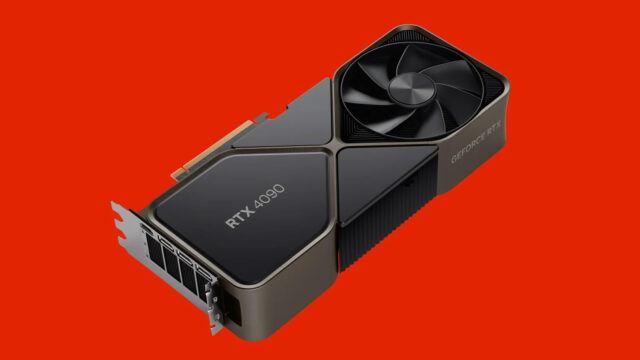 At the recent RTX 40-series launch, Nvidia did its usual thing of presenting vague charts to show the performance boost between its newest GPUs and its older models. It never shows actual frame rates at different resolutions and settings. Instead, it goes with obtuse "2X" references, which we suppose sounds more impressive than actual numbers. Nivida has now released some benchmarks for the flagship RTX 4090 to help build hype for its upcoming launch on Oct. 12. The numbers do show impressive gains, at least in games with ray tracing.
The numbers were revealed to the media behind closed doors, in a slide showing a Core i9-12900K Windows 11 system with 32GB of memory, according to Wccftech. Nvidia seemingly wants to tout the gains made by the RTX 4090 in both today's and tomorrow's games, although it's a bit humorous that two of the latter are Portal and Cyberpunk.
The big caveat here is that DLSS 3 is the key to unlocking maximum performance. In general, DLSS 3 seems to be underpinning most of Nvidia's claims about performance for the 40-series. Though it said its newest GPUs are capable of twice the rasterization performance of Ampere, the real gains are with DLSS and especially in ray tracing. The numbers below were taken at 4K resolution, in DLSS "performance" mode.
Even at a glance, you can see DLSS 3 is capable of notable performance gains, in select titles that support DLSS 3. For example, the far left side of the chart shows gains in non-ray-traced titles, and they are the smallest of the bunch. Compared with Cyberpunk 2077, you can see it gets a 3X boost in its current form, but a 4X boost even with the upcoming "Max" RTX mode. That "overdrive" mode for RTX will introduce direct illumination, which will allow every light source's beams to be reflected multiple times as well as other improvements. It sounds like the kind of tech that will bring Ampere to its knees, especially at 4K.
[embedded content]
What the slide also makes crystal clear is the biggest gains for this generation are in ray tracing performance. That's due to the GPUs' new Tensor Cores, as well as the upgraded optical flow accelerator. According to Nvidia, the hardware is working in concert with DLSS 3 to provide significant boosts in performance that weren't possible before.
According to the account, Nvidia explained why its latest hardware is better suited to handle ray tracing than previous architectures. One of the reasons is ray tracing has gotten a lot more complicated than when it first launched with Turing. As one example, with Battlefield V, which was one of the first games to offer RTX, it rendered 39 RT calculations per-pixel. With the "overdrive" mode in Cyberpunk, that number has ballooned to 635 RT calculations.
To tackle this with the 40-series, Nvidia added several new technologies. Chief among them is something called Shader Execution Reordering (SER). It lets the GPU make ray tracing calculations for different light sources more efficiently than before by grouping them together. Previously, some rays had to wait for others to finish their program before running. Nvidia says SER can boost RTX in certain games anywhere from 20 to over 40 percent.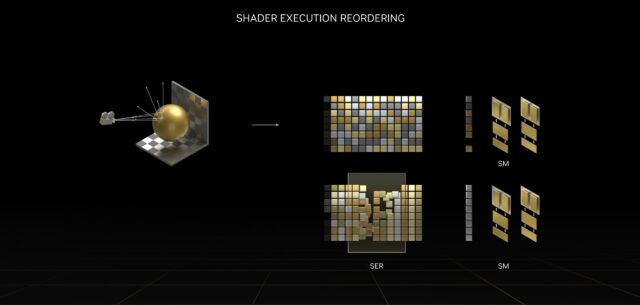 The RTX 4090 looks to provide exceptional performance in games that support DLSS 3 and offer ray tracing. That's obviously a small handful at present, so Nvidia is using those to promote its latest hardware. Nvidia didn't include the RTX 4080 in these slides, however. Both of those GPUs use smaller dies than the RTX 4090 and have reduced specs despite promising similar bonuses in ray tracing.
Although the RTX 4090 seems to be an improvement in every way over Ampere, it's unclear if that holds true for the RTX 4080 models. Nvidia took the unusual step of giving them the same name as the previous gen's GPU but endowing them with narrower memory buses and reduced CUDA, ROP, and Tensor Core counts. That wasn't the case with the RTX 3080, which shared the same die as the RTX 3090. It also had a wide 320-bit memory bus, whereas the RTX 4080s get a 256-bit and 192-bit memory bus for the 16GB and 12GB versions.
It'll be interesting to see how those cards fare against the previous-gen cards. Our guess is it will be close in rasterization, even if the 4080s are faster in ray tracing. We'll know for sure with real-world benchmarks. The RTX 4090 is releasing in a few weeks, with the 4080s to follow sometime in November. AMD's RDNA GPUs will be revealed on Nov. 3, so November will be quite the month for GPU aficionados.
Now Read: